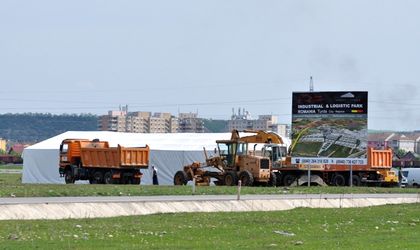 Graells & Llonch has begun works this week on a 400,000 sqm industrial park near Turda, Cluj county, which will require an investment of about EUR 200 million over the next five years. The project is a speculative development carried out in partnership with Europe Capital investment fund which supplied the 55 hectare plot of land on which the project will be constructed.
About 95 percent of the 200 million investment will come from own funds, said Antonio Graells, the company's general director.
Some 25,000 sqm of warehouse space will be delivered this autumn. Logistics and FMCG companies have shown interest in buying or renting space in the industrial park but the developer has managed to sign just one pre-lease agreement so far for 35,000 sqm.
This is the second industrial park developed by the Spanish construction company in Romania after it has invested EUR 350 million in similar project at Prejmer, Brasov county. Graells & Llonch says it has sold 65 percent of 839,000 sqm of the Prejmer industrial park.
The Turda Industrial Park will feature some 77 logistics and distribution warehouses, and production facilities.  "We will try to offer a price per sq m below the average prices in the market – one of our greatest advantages.The companies will benefit from 5 years free of Municipality taxes and a service maintenance park fee that is 12 times lower than in other locations with the same profile. Our service fee will be EUR 0.7/ sq m / year compared with EUR 0.5-0.7 sq m / month average market price, "explains Josep Mateu, sales and marketing director of the Spanish company Graells & Llonch
The project is estimated to create about 3,000 jobs when completed.
Read more in next week's print edition
Simona Bazavan