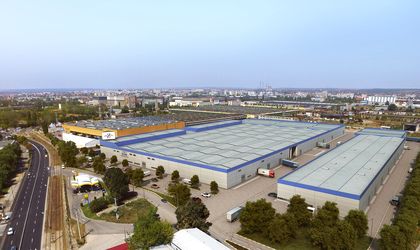 An analysis by real estate consulting firm Dunwell shows that the city with the most expensive land for industrial developments in Romania is Cluj-Napoca, where prices can even be twice as high than those in Bucharest.
"Prices for buildable land are maintaining a constant level, but there are small exceptions when it comes to land located around maximum interest areas for office, retail or residential development in Bucharest, Cluj, Timisoara or Iasi, which have had 10-15 percent higher crises than the average. A well-located land that has an approved Zonal Urbanistic Plan (PUZ) is more attractive and therefore more expensive. As for the industrial/logistics segment, the highest prices were recorded in Cluj-Napoca, northeast Bucharest, east Bucharest and west Bucharest," according to Laurentiu Badea, managing partner at Dunwell.
Asking prices in Cluj for land suitable for the industrial/logistics sector varies between EUR 45/sqm and EUR 65-75/sqm, according to Dunwell, prices which can represent a national record.
"Cluj is a very important hub from a logistics standpoint, and it is geographically very attractive. Its highly qualified workforce is another advantage, and a differentiating element for Cluj is the terrain, which limits the development of new areas and implicitly the creation of possible competition. For this reason, prices in the Cluj area are at a very high level, and logistic park developers are carefully analyzing possible investments here, where prices exceed EUR 40/sqm. This is the reason why Floresti, Apahida and Jucu are among the most attractive and sought after areas around Cluj, and the fact that established developers like CTP or WDP have developed logistic parks here, raising the interest for these areas," Badea added.
The most expensive cities in Romania for industrial development
According to Dunwell data, Cluj-Napoca, Bucharest, Sibiu, Timisoara and Craiova are the cities with the highest prices in terms of land acquisitions for future industrial development.
Prices have had constant growth, especially in areas dedicated to industrial or logistics projects, but any investment in infrastructure or logistics in a certain area automatically led to positive corrections for that area as well as its surroundings.
Cluj-Napoca: in the Floresti area, land prices vary around EUR 50-60/sqm, in Apahida around EUR 60-70/sqm, while in Jucu, prices vary between EUR 35-40 sqm.
Bucharest: the northeast (Stefanestii de Jos) area has prices starting from EUR 30/sqm and sometimes reaching EUR 60/sqm, while in the northwest area (Chitila-Rudeni) land costs between EUR 30-40/sqm, between EUR 25-35 in the east, while in west Bucharest, the most popular industrial development area in Romania, land costs between EUR 20-25/sqm.
Sibiu: prices vary between EUR 25-30/sqm; Timisoara and Craiova: between EUR 20-25/sqm.
"Any infrastructure project (motorway, ring road, etc.) increases the attractiveness of an area. Stefanestii de Jos has become a very attractive location once the A3 Bucharest-Ploiesti motorway and the connection node with the Bucharest Ring Road were finalized. The same will happen with Targu Mures, Turda or Constanta, which are cities with high potential for development thanks to the advanced stages of infrastructure projects, meaning that they could become strong competitors to Cluj," said Andrei Moraru, head of land development at Dunwell.
Moraru added that developers are looking for land plots of at least 100,000 sqm in the main cities, and at least 50,000 sqm in secondary cities.
"The most sought-after land plots are those located in areas with quick access to road infrastructure, areas included in the general urbanistic plans (PUGs) with a logistics or industrial purpose. There are developers looking for former industrial platforms to convert to modern industrial parks. Secondary cities are mainly pick-up point type logistic hubs, so the most important criteria is road infrastructure, and developers  will want to acquire land at the edge of cities, but with quick access to expressways or motorways," said Andrei Moraru.