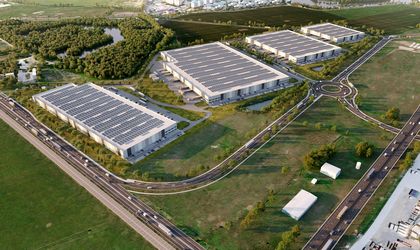 VGP, a European provider of high-quality logistics and semi-industrial real estate, announces the results for the financial year ended 31 December 2022. VGP reports strong rental activity with € 73.4 million of signed and renewed leases bringing the annualised committed leases to  € 303.2 million, a 18.4% YoY increase; 44 projects delivered representing a record 1,141,000 m² and € 71.9 million of annualised rental income; 26 projects under construction at year-end representing 814,000 m² and € 51.3 million of additional annual rent once fully built and let (>90% pre-let today).
The company is negotiating new joint venture agreements and has received a profit distribution of EUR 60 million from these partnerships during 2022.
VGP has been present in Romania since 2007, and develops industrial parks in Bucharest, Arad, Brașov, Timișoara and Sibiu. VGP Park Bucuresti Nord is developed on a plot of approximately 250,000 m2 and will have a total leasable area of approximately 120,000 m2 divided into 4 buildings. VGP Park Arad, developed on a land of 39 ha, with a rental area of up to 200,000 m2, is strategically positioned in Arad, the most important road junction in the west of the country, part of the IV Pan-European Transport Corridor. VGP Park Brașov is developed on an area of approximately 320,000 m2 and will have a total potential of 140,000 m2 of space available for rent. VGP Park Timișoara is fully rented, with possibilities for expansion.
Romania ranks second place in VGP's portfolio of new leasing contracts (EUR 5.2 million, 9%), after Germany (EUR 25.4 million, 44%), the performances being proportionally distributed geographically on the markets in which VGP operates: Spain
€ 4.4 million (8%), Czech Republic € 4.3 million (8%), Netherlands € 3.9 million (7%), Serbia € 3.5 million (6%), Hungary € 3.2 million (6%),  Slovakia € 3.1 million (5%),  Austria € 2.4 million (4%), Latvia € 1.2 million (2%), Portugal € 0.8 million (3%),  and Italy € 0.1 million (1%).
Jan Van Geet, CEO of VGP, said:
"I am proud of our performance in 2022, in terms of leasing activity it is one of our best years ever, and taking into account the economic and geopolitical challenges it is perhaps our best year thus far, having signed and renewed leases in amount of € 73.4 million. Whilst we have booked a devaluation of our portfolio in response to macroeconomic conditions, VGP realized € 87.2 million gains on all disposals to JV's in '22, reflecting high double digit IRRs, in what was a record year of closings with our JV partners."
Jan Van Geet continued:
"Over the year we delivered a record number of >1.1 million square meters of high quality assets and, as a result, our net rent and renewable energy income increased with 51% at share to €107 million. With a total of € 303 million contracted rental income, our portfolio cash flow will continue to grow at a similar pace in 2023. Likewise, our efforts in building a renewable energy platform sees good momentum with +200 MWp of solar systems either already installed or under construction."
Jan Van Geet concluded:
"We approach 2023 with confidence as we see continued healthy occupier demand, start to see construction costs coming down, and our technical competence and ESG measures becoming increasingly important factors of distinction. We benefit from a strong cash position and are on the look-out for new opportunities which will become available in the present environment, yet, we remain vigilant due to prevailing uncertainties and are focused on profitable developments against attractive conditions. This was showcased during the delivery of VGP Park München last December, a project fitted to the highest technical standards and a plurality of sustainability measures, delivered significantly within budget. We count on the desirability of our locations and the agility of our teams to further strengthen our pipeline."