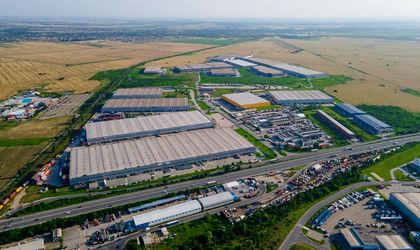 P3 Logistic Parks ("P3") announces contract renewals and extensions of some of the longest-standing tenants in the local portfolio, Logistic E Van Wijk and HOPI® Logistics. Thus, the two companies are developing their logistics needs within the P3 warehouses and will occupy an area of 20,538 square meters of logistics spaces and offices within the park.
The evolution of the two players in the transport and logistics market in recent years, together with the development of P3 and the construction of new warehouses, has led to an increase in the space rented by them in the park on the A1 highway.
Sînziana Pardhan, Managing Director P3 in Romania, states:
"Through the expansion of the E Van Wijk and HOPI operations in the P3 Bucharest A1 Park, we are consolidating long-term collaborations, built on close communication, trust and the constant effort to find the most suitable solutions for the business needs of our partners. It is always a privilege for us to be part of the success stories of our clients and we thank them for choosing to write a new chapter with the P3 team."
The transport and logistics provider E Van Wijk has been a tenant of the P3 Bucharest A1 Park since 2007 and has gradually expanded its leased area, currently reaching a total area of 14,810 sqm, almost four times the volume it was 16 years ago, and to fully occupy warehouse 6 in the park.
Adrian Domșa, Branch Manager Logistic E Van Wijk:
"We have chosen to continue our growth story with P3 Romania as a natural consequence of the collaboration we have enjoyed together for almost 16 years. With P3 we have had access to tailored solutions, support in tough times, growth potential and the inspiration of a modern, long-term vision. We support healthy partnerships, continuity and performance, as well as reliable logistics services through passionate employees, as the benchmarks that guide our entire business."
HOPI® Logistics, part of HOPI® CEE Logistics, a company that offers international transport services, has also experienced an important development in the P3 park in Bucharest, the company almost doubling its needs for logistics spaces in the last five years. The carrier has currently secured a long-term contract for more than 5,700 square meters of storage and office space in warehouse 10 in the P3 park.
Florin Posteucă, CEO HOPI® Logistics Romania:
"From the very first contract, our main desire was to identify not just a simple logistics park, but a complete industrial and logistics facility where we can grow and consolidate our business. We found in P3 more than that, a partner that supports and inspires you to want and be able to do more. That's why we have chosen to confidently continue our development journey together."
P3 Group announced record operating results and solid financials for 2022
The European investor and developer of warehouse properties, P3 Group S.àr.l, increased Gross Asset Value ("GAV") to 8.3 billion euro, only modestly impacted by a 2.3% valuation decline. Operationally, the Company's portfolio grew to 7.6 million m² across 11 European countries, registering an all-time high occupancy rate of 98%.
Despite continuing market volatility, the Company posted strong results supported by resilient industry growth dynamics, including favorable long-term supply and demand trends due to the continued retail shift to e-commerce and the re-organization of customer supply chains. The Company's GAV growth was driven by a prudently executed capital deployment program aimed at growing the portfolio profitably via acquisition and development activities.
Frank Pörschke, CEO P3 Group, commented:
"P3's 2022 results reinforce our ambition to be the leading owner, investor and developer of prime logistics and industrial assets across Europe. Structural tailwinds for logistic properties remain intact with strong supply and demand dynamics despite economic uncertainties. Our portfolio value grew to 8.3 billion euros driven by acquisitions and development despite experiencing, thanks to our prudent, long-term approach, a comparatively low negative revaluation through market-wide yield expansion of just 2.3%. Building on these strong fundamentals, we will continue to carefully manage our existing portfolio and actively seek attractive growth opportunities, be those developments, individual yielding assets, forward-funding, whole portfolios or even platforms."
Based on a strong operational platform and a portfolio focused on diversification and quality, the P3 Group operates the largest logistics portfolios in continental Europe. The company's performance was supported by the resilience of the industry's growth dynamics, including favorable long-term supply/demand trends due to the continued shift of retail to e-commerce and the reorganization of customer supply chains. Recent European events have accelerated/amplified this dynamic and demonstrated the resilience of rent collection rates relative to other real estate sectors. ESG strategy is a priority for P3 Group, which has exceeded the target of 75% BREEAM Very Good or higher. The solar deployment target has increased to 100 MWp by 2027 to meet investor expectations, tenant needs and regulatory requirements.