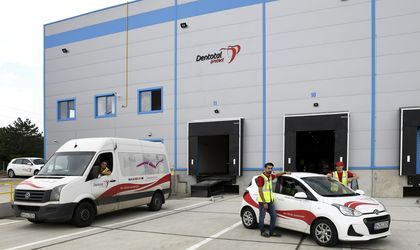 Dentotal Protect, together with its investor, the private equity fund Abris Capital, inaugurated today a 2,500 sq. m warehouse at the new location situated in Eli Park Chitila, in the presence of their main business partners. The company already invested more than 400,000 EUR in logistics and estimates to triple its delivery capacity and order processing during the next three months after the opening.
Dumitru Matei, CEO Dentotal Protect, states that "For any distribution company, an optimized logistic flow is an essential condition to successfully deliver to its clients. This is the reason why the most important project of Dentotal – after being acquired by Abris Capital in 2019 – is the new logistic centre we just inaugurated. Before the pandemic period, our logistic centre was comprised of three different locations summing up to 700 sq. m and the orders were mostly processed manually, whereas this new centre not only has thrice the medium surface and height, but it also has new and up-to-date storage and manipulation systems and stock management and new IT system (WMS), the total investment summing up to more than 400,000 euro to this day".
The company announced that it continues to move forward with its plans of growing organically and through acquisitions, and the recruitment process for new employees has been going on during the pandemic period, in order to adjust the staff numbers to new demands.
"The dental products distribution market, just as the whole dental care sector, was one of the most affected by COVID-19 crisis. Nevertheless, before the pandemic period, this market was one of the most dynamic and resilient, with a yearly growth of 15-20%, and a growth for Dentotal even greater than that of the market. A month after the lockdown state ended, we can see the market gradually regaining its former status and we are optimistic as for its development perspectives. These two months were difficult for Dentotal as well, but the company was well prepared to resist eventual shocks and we are content to see that, so far, it passed well through this period and it used these two months to consolidate its operations", states Mihai Zamfir, Investment Manager, Abris Capital.