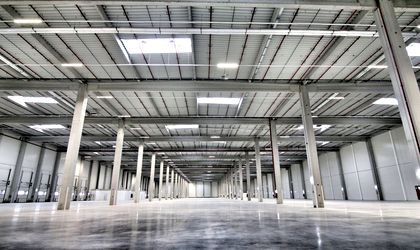 CTP, the leading premium industrial parks developer and long-term manager in Romania and Central and Eastern Europe, continues its expansion in Romania by developing a new logistics park in the Northern part of Bucharest – CTPark Bucharest North. The park, located in Ștefănești, Ilfov County, has a total area of 21 ha and has a large opening with a great access to the Bucharest Ring Road, close to A3 Highway, which makes it extremely easy to reach and transit. The total value of the investment in the new logistics park amounts to EUR 65 million.
CTPark Bucharest North will have an operational space of 100,000 m2 for which the company has obtained the building permit and already started the construction. The first 20,000 m2 will be ready to be used by the first customer in autumn this year, and the rest of the area will be developed in phases until end of 2021.
"CTPark Bucharest North is a proof of our commitment to investing and expanding around Bucharest and, that our approach to provide seamless, end-to-end property development services, is an asset in our relations with our partners. With 20,000 sq m to be delivered fully this autumn and 80,000 sq m more to come by end 2021, we are confident that our EUR 65 million investment in CTPark Bucharest North will transform the park into the go-to place for businesses looking to develop in the North of Bucharest." Says Ana Dumitrache, Country Manager CTP.
The first client of CTPark Bucharest North is DSV Group, a global transport & logistics supplier and long term CTP partner. The 10,000 sq m rented by DSV Group have been developed be-spoke, fully customized to DSV needs and will be delivered this autumn.
CTPark Bucharest North is a logistics park adapted to the needs of its customers and offers customized flexible solutions: with units available ranging from approx. 2,400 m2 to 15,000 m2.
CTPark Bucharest North Facts
Building site – 21 ha
10 flexible Warehouse units; five construction phases
Available space – over 100,000 sqm for both large companies and small and medium-sized businesses
Investment – EUR 65 million
Location: Ștefănești, Ilfov County, On The Bucharest Ring Road, Close To A3 Highway
CTPark Bucharest North Construction Timeline
Groundbreak in March 2020
First 20,000 m2 to be delivered this autumn
The next 20,000 m2 to be delivered in Q1 2021
Construction work will continue and the park is expected to be completed during 2021
About CTP
CTP is a Dutch-based full-service commercial real estate developer and manager, specializing in the delivery and management of custom-built, high-tech business parks for leading international and domestic companies making strategic investments in new or expanded operations in Central Europe. CTP is the owner of the CTPark Network, the largest integrated system of premium business parks in Central Europe, with over 5.8 million m2 of A-Class industrial properties at over 96 strategic locations in seven countries. CTP is committed to protecting the natural environment and to reducing its carbon footprint. The group is engaged in large-scale tree planting across the region, forest re-cultivation, builds all new buildings solar-ready roof tops, and is BREEAM certifying its entire portfolio across CEE.
In Romania, CTP is the leading warehouse developer and manager, with a GLA of over 1,200,000 m2 of Class A warehouses spread in 10 cities: Arad, București, Cluj-Napoca, Deva, Pitești, Sibiu, Timișoara, Turda, Ineu and Salonta.