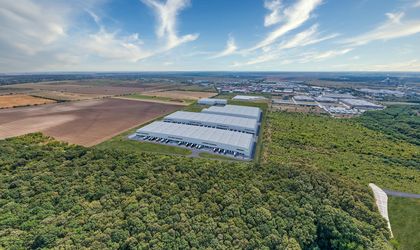 CTP, the largest developer and administrator of class A industrial and logistics spaces in Romania, continues the development of  CTPark Bucharest North with new buildings with a total area of  95,000 sqm. The new investment benefits from property tax exemptions based on the title of industrial park and will generate between 300 and 1,000 jobs, depending on the exact usage of the rented space. This advantage will be transferred to CTP's partners to support business development and ensure homogeneous organic growth.
Together with the Afumaţi City Hall, CTP Romania announced the launch of a new phase, called Afumaţi Industrial Park, a development on a land of 18 hectares. The new investment comprises of approximately 95,000 sqm of industrial and logistics spaces, and the first building will be delivered in the second quarter of 2022. CTP also diversified the type of buildings, offering for rent areas from 2,500 to 50,000 sqm, as well as smaller spaces of 500, 800 or 1,000 sqm for companies that are in their first stages of growth.
"We see a growing demand for quality industrial and logistics spaces in the North of Bucharest. We will expand CTPark North Bucharest through a new investment, with different types of buildings and flexible spaces, starting from 500 sqm. We appreciate the support of the or local authorities in Afumaţi, which granted us tax incentives based on which we obtained the title of Industrial Park for this new project. These facilities will help us attract new investors in the Afumaţi area, offering them logistics spaces of the highest quality, strategically located in the North of the capital, at a highly competitive price on the market", stated Ana Dumitrache,  Country  Head, CTP Romania.

Ana Dumitrache,  Country  Head, CTP Romania
The title of Industrial Park was granted considering the investments made by CTP in the development of the Afumaţi area and their economical impact for the local community. Thus, confirming CTP Romania's commitment to support the development of the Afumaţi area through significant investments, which will generate jobs and benefits for the community and the local and central authorities.
CTPark Bucharest North was opened in July 2020 and has an area of 27 hectares.
In Romania, CTP has a total area of 2 million sqm of class A warehouses in 14 cities in Romania: Arad, Brasov, Bucharest, Cluj-Napoca, Craiova, Deva, Oradea, Pitesti, Sibiu, Timisoara, Turda, Caransebes, Ineu and Salonta. In Bucharest, CTP owns five industrial parks: CTPark Bucharest North, CTPark Bucharest, CTPark Bucharest West, CTPark Bucharest South  and  CTPark Chitila.