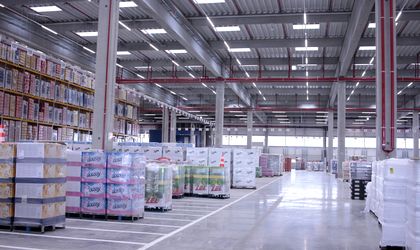 The continued development of e-commerce pushed from behind the warehouse market sustained by an accelerated growth of consumption. This year, the warehouse market might reach a total surface of 3.5 million sqm.
"The most important engine growth of the market in the last three years was the retailers' extension sustained by an accelerated growth of consumption. Even if Romania is still behind with e-commerce the segment rose from 4 percent to 5.6 percent in total market. And the forecast indicates 10 percent share of electronic commerce until 2022", Sinziana Pardhan, managing director P3 in Romania, said.
The area occupied by electronic commerce in storage is difficult to measure with precision, as it also includes some of the traditional retailer's demand for storage that is increasingly allocating space to their online store, a space that is not reflected in statistics.
But, as the online segment reaches the critical mass in retailer affairs, they will increasingly focus on managing separate logistics for online stores, which will provide them with better operational efficiency. According to Colliers International, in 2017, 47 percent of storage space was taken over by logistics, 17 percent by retail, 6 percent by electronic commerce and 4 percent by FMCG.
A Cushman and Wakefield analysis shows Romanian warehouse space is ranked on third place in Eastern Europe, with 3 million sqm at a 19.6 million population, after Poland, 10 million sqm to a population of 38 million and the Czech Republic, 5.7 million sqm, to a population of 10.5 million inhabitants.
The Romanian market is followed by Hungary – 1.9 million sqm for a population of 9.8 million inhabitants and Slovakia – 1.3 million sqm for a population of 5.4 million inhabitants.
Latest market analysis indicates an area of 3.5 million sqm available for Romanian market at the end of this year.