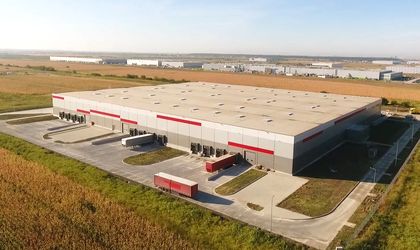 The market of industrial spaces in the western and north-western regions of the country is rapidly growing, after the stock has doubled in just four years, becoming the second-largest market after Bucharest and is expected to exceed 700,000 sqm this year, according to CBRE data. The company recently advised the lease of a total area of about 18,000 sqm of industrial space within the Timisoara Industrial Park II project, which thus became fully occupied.
CBRE covers the west and north-west area of the country through a team dedicated to the industrial sector, coordinated from Timisoara by Mădălin Aresmerițoaie, Senior Advisor, Industrial Services, within CBRE Romania. In 2019, 67,000 sqm of industrial premises were delivered in the west and northwest of Romania, raising the current stock to 650,000 sqm. As for the demand, nearly 70,000 square meters of industrial space were leased, with CBRE having a market share of 44%.
"We are marking an increasing appetite for the western and north-western area of the country, both regarding the offer of new projects emerging on the market, as well as the appetite for industrial property, the volume rented in 2019 exceeding the level of deliveries. 65,000 sqm of industrial space are currently under construction near the cities of Timisoara, Cluj-Napoca, Oradea and Satu Mare", stated Mădălin Aresmerițoaie, Senior Advisor, Industrial Services, CBRE Romania.
In Timisoara, CBRE advised recently the lease of 18,000 sqm in the Timisoara Industrial Park II project (formerly known as Timisoara Airport Park 2 or TAP 2), developed and managed by Global Vision for Globalworth.
The first stage of the Timișoara Industrial Park II project is now fully occupied, after NDB Logistica, an integrated logistics service provider, leased an area of 12,000 sqm and DS Smith leased approximately 6,000 sqm, both transactions being advised by CBRE Romania.
NDB Logistica is one of the largest providers of integrated logistics services, with a strong presence in 32 countries, offering transport and warehousing, quality control and distribution services, in different fields of activity: FMCG, production, automotive and industrial, construction, textiles and household and electronic products.
DS Smith is a leading international packaging business operating across 37 countries and employing c. 27,000 people. The company's vision is to redefine packaging for a changing world.
"The distribution and production companies continue to represent the engine of the demand in the industrial property market, resulting in over 60% of the 480,000 sqm traded last year in Romania. The regional cities cover almost half of the total leased volume in 2019 and we continue to see demand for industrial spaces in the western, north-western and central areas of the country ", explained Andrei Jerca, Head of Industrial Services, CBRE Romania.