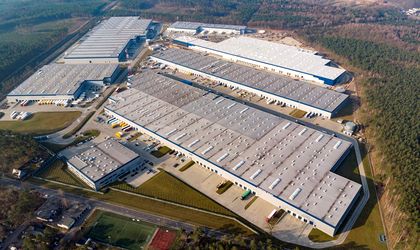 In the second and third quarters of this year, premium industrial and logistics real estate investor Accolade signed lease agreements for almost 460,000 m² in the six countries where it operates. A significant part of this was due to parks in the Czech Republic and Spain, its first park in the Netherlands, and also Poland, where the group completed construction of a large project in Szczecin. Accolade came to Poland seven years ago and currently owns 26 of the country's 45 parks, both those completed and under construction, spanning nearly 1.5 million m².
"The many hundreds of thousands of square metres of newly leased sites with a significant increase in rent show that, even in troubled times, more industrial, logistics and e-commerce companies are coming and expanding here. The demand for facility rentals is stable. Tenants are making large investments in automatisation, often billions of Czech crowns. This is another technological revolution," said Milan Kratina, Accolade CEO.
Whereas in the same period last year, Accolade signed lease agreements for 150,000 m², over the last six months the group leased another 460,000 m2. "The substantial increase was due to the ongoing geographical expansion of our portfolio, as well as significant demand from tenants," added Kratina.
The lion's share of the new rentals was leased in the Czech Republic, mainly in the Karlovy Vary and Ústí nad Labem regions. Poland comes in second as Accolade completed its biggest and historically first Polish project in the port city of Szczecin. The country with the third largest leased area was Spain, namely the cities Burgos and Valencia.
A smart move – seven years in Poland
Currently, Accolade owns 26 logistics parks spread across Poland. Their leasable area amounts to around 1.5 million m2 out of the portfolio's total of 2.6 million m2, which includes, besides Poland, assets in the Czech Republic, Slovakia, Germany, Spain, and the Netherlands. So far, Accolade has invested nearly 28 billion CZK (over 1 billion EUR) in Poland and plans to put a further 12 billion CZK (about 0.5 billion EUR) into Polish assets.
The Accolade group entered Poland in 2015 through its first project in the Załom area in Szczecin. The most recent building was completed and handed over to tenant AUTODOC Logistics this August. With a leasable area of 230,000 m2 and over 46 hectares of regenerated brownfield land, it represents the largest park that Accolade owns in Poland. It is only usurped in the group's portfolio by the compound in Cheb, with a leasable area of 390,000 m2.
The biggest tenant at the Szczecin park, where all the buildings are now fully leased, is AUTODOC Logistics, the Polish branch of leading international car parts dealer AUTODOC. Having operated in the compound since its opening, the company now rents three facilities with a total area of over 70,000 m2. Other tenants include multinational company DHL, and Scandinavian brands Pierce, Cotes, Change Lingerie, and Svendsen Sport, which have chosen Szczecin as the gateway for their further European expansion.
"Just as we expected, starting our Polish expansion in Szczecin clearly turned out to be the right decision. Seven years ago we foresaw the potential of this city and the country as a whole. A high demand for warehouse space in the entire region then helped us launch more projects in other Polish cities, and today we are considered market leaders here," said Lukáš Répal, Accolade COO. Today, the group is the biggest investor in industrial real estate in Szczecin, where it owns not only Załom but also another site on Kniewska Street. "We have brought many companies to the region and together have helped create 4,000 new jobs. We aim to support further sustainable development of the Szczecin region and wish to operate as a responsible member of the local community," added Répal.
Polish market leader
Since 2016, Accolade has also been very active in Bydgoszcz in Northern Poland. Nearly half a million people live in the agglomeration, where the group today owns almost 40% of all modern warehouse facilities. Ranking among the "greenest" in Accolade's Polish portfolio, the Bydgoszcz parks regularly aim for the highest levels of BREEAM certification.
The first two Accolade parks in Bydgoszcz with a total area of 87,000 m2 are rented by leading e-commerce and logistics companies such as DPD, Logistika, Schenker, DSV, and InPost. The third site is currently being expanded from its current 34,000 m2 to 44,000 m2. The latest Accolade project in Bydgoszcz, located in the suburban town of Lisi Ogon, consists of three buildings with an area of 110,000 m2. The facilities have been leased to German supermarket chain ALDI, metal manufacturer BAS, and window sill producer Kris-Tech.
The Accolade group has invested over 200 million EUR (around 5 billion CZK) into these four warehouse sites and has also launched a new project in nearby Piła worth 40 million EUR (around 970 million CZK). This project will include two buildings with a total area of 44,000 m2, most of which had been leased to Logistika, InPost and CEVA before construction even began.
"Bydgoszcz is a great example of the type of place Accolade focuses on. It is a city with more than 300,000 inhabitants, accessible infrastructure as well as an industrial tradition. It is a commerce and logistics hub which is well integrated into the transport network. Academically and scientifically oriented, the city also provides a skilled workforce. Thanks to our investments, over 1,320 new jobs have been already created here, a number of which will increase with further development of the industrial parks," added Répal.
All of Accolade's parks in Poland have passed the demanding BREEAM sustainability certification, a portion having been developed on former brownfield sites, bringing them back to life in the process. The parks are fully leased to both Polish and multinational companies.