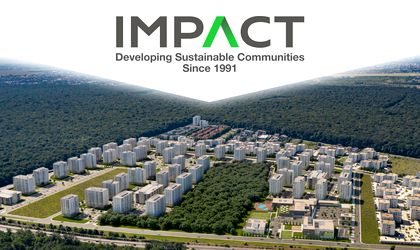 Impact Developer & Contractor, the first real-estate developer listed at the Bucharest Stock Exchange (BVB), reveals it's new brand identity. Under the statement "Developing sustainable communities", the new branding reflects the company's vision of developing large residential communities using sustainable technologies and solutions, with a low environmental impact. 
Impact Developer & Contractor's mission is to have a positive impact on the lives of residents by developing large communities with focus on sustainability, efficiency, and wellness. The new visual identity represents both the company's mission and its Commitment for "Green", repositioning the Impact brand in the current context, where the care for the environment is a priority.
 "The new brand identity stands perfectly for who we are and what we offer. The respect for the environment, the responsibility and integrity are among the core values that guide our entire activity. We aim for a "green" future for the communities that we are developing in the main cities of Romania and our 30 years of experience help us to always be one step ahead." has stated Constantin Sebeșanu, CEO of Impact Developer & Contractor.
The new logo keeps its simple and authentic look, the differentiator being the colour palette. Thus, red becomes green, which symbolises the care for the environment and sustainable development and the grey colour in the text font reflects the large-scale housing development. The brand signature emphasises the company's mission of creating sustainable communities.
In the latest years, the company has transitioned towards "green" housing by developing Luxuria Residence, the first completed residential project in Romania with a BREEAM Excellent certification. The same commitment to the "green" values will guide the company's activity in the following years as the next project where Impact will implement the BREEAM Excellent certification is Greenfield Copou in Iasi. All the company's new residential developments will be designed both in accordance with this international standard but also with the European nZEB standard. Recently, the company has made another major step towards sustainability by creating an ESG (Environmental, Social and Governance) department and by switching to electric automobiles for its own car fleet.