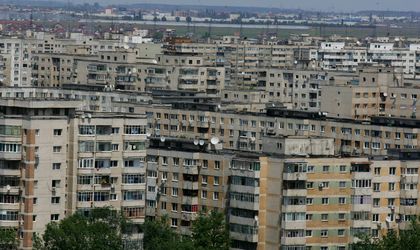 Housing demand is on the rise, say developers and real estate pundits, but new developments have stalled as banks remain reluctant to finance residential projects. The good news for prospective buyers is that prices are stagnating too, and fluctuations of less than 5 percent are likely by yearend.
Simona Bazavan
Article selected from BR's Property Supplement. Read the full supplement here.
Average asking prices for Bucharest apartments increased by 1 percent in the first semester of the year compared to six months ago, according to data from real estate portal Imobiliare.ro. And this stationary situation applies to more than house prices, but the evolution of the entire residential market in the first semester.
"It is too early to talk about the residential market (…). There are two entities dictating this. On one hand there are the banks, who cannot be convinced to start financing the residential sector overnight, and on the other hand there are the developers who so far don't want to hear about residential projects," said Attila Peli, head of development and land at JLL, during the 13th edition of BR's Realty event in June. Nevertheless, he predicted that the situation could change next year.
Peli, who believes a new real estate cycle has begun, explained that like the last time around, it is the office segment, with its lower associated risk, that will be the first to experience the rebound. And recent market developments confirm this.
New housing market crawls towards recovery
Over 27,300 new flats located in 115 residential compounds of over 20 units have been built in Bucharest and Ilfov county since 2006, according to CBRE data. More than a third of this stock is in Ilfov. In the capital, district three takes the lead with a 17 percent share of the total modern stock. Headline asking prices are below EUR 1,000/sqm (gross built) for 69 percent of modern stock.
Around 4,000 flats located in 31 compounds were in various stages of development by mid-2013 and were expected to be delivered by 2015, according to the same source. However, the majority of these homes represent expansions of existing developments.
With plenty of toxic real estate assets in banks' portfolios and the industry generating good business for insolvency firms, securing financing for new residential developments remains next to impossible in the current market conditions, developers complain.
As a result, in recent years most of the residential developments have been financed from private equity. Real estate developer Adama, which last year delivered 210 apartments in Bucharest and will deliver 50 more new homes in Iasi this autumn following a total investment of close to EUR 16 million from its own funds, has land in Bucharest to develop new residential compounds, Alina Necula, head of marketing & sales at Adama Group, told BR.
The developer is considering the Berceni, Razoare and Vasile Lascar areas of the capital for its next projects but says it is difficult to give a precise timeline for beginning works.
"On one hand there is the process of obtaining all the authorizations and permits and there is also the market's evolution," she outlined. Adama is currently in the process of getting the necessary permits and will most likely begin a new project in the first quarter of next year, she added.
And the market evolution has been positive so far, said the marketing & sales head. Prices bottoming out and the various financing options available for prospective buyers are the main factors encouraging people to invest in buying a home, believes Necula.
As a result, the developer has seen sales improve constantly in the first semester and expects to surpass last year's level. In 2013, Adama sold 25 percent more properties than the previous year and it has set the target for this year to maintain monthly sales of at least 12-15 units, a target it has surpassed, according to company data.
Confident in the obvious need for more apartments in the capital, other developers are waiting for market conditions to improve to begin similar projects.
For example, AFI Europe Romania, the developer of the AFI Palace Cotroceni and AFI Palace Ploiesti shopping malls, is looking at expanding into residential, the developer's CEO, David Hay, told BR in an interview earlier this year. However, there are no firm plans for next year. "It is in the cards. Not next year, for sure, but the market will change. We see this and we are getting ready for when it does. It could take one, two or three years, but it will change. Right now the demand is, let's say, only for apartments that qualify for the Prima Casa scheme. We're hardly seeing any sales outside of this. The market will move past this when people feel more secure and are ready to take risks," he predicted.
Financing still in limbo
While financing conditions for developers remain tight, the situation has definitely improved when it comes to financing buyers, thinks Necula. One good sign is that buyers are now looking at other options beyond the Prima Casa (First Home) government-backed loan program.
"The Prima Casa program remains popular but it is used exclusively by those who cannot afford a down payment of more than 5 percent. Increasingly we have clients taking out regular loans for which monthly repayments are similar to if not more advantageous than Prima Casa," she said.
Despite this, there is still room for improvement, think banking representatives.
"The market has gone forward in terms of demand but banks aren't catching up," said Anca Bidian, general manager at Kiwi Finance, during BR's Realty event. In order to reduce risks, lenders have tightened procedures to the point where bureaucracy has become the main issue the sector is struggling with at present. "The banking system is running pretty much like the Ministry of Finance in this regard," she commented. "A worrying share of credit requests are denied for bureaucratic reasons alone."
There is liquidity in the market, and the growing demand and clear signs that even the residential market is entering a new growth phase will push banks to further loosen credit for end users, added Bidian.
Prima Casa loans decline in first semester
Nevertheless, Prima Casa has been and continues to be the main driver of the local residential market, with few apartment transactions being closed outside the program. Its attractiveness consists mostly in the fact that beneficiaries can buy an apartment or a house with a down payment of only 5 percent compared to the minimum 15 percent required for regular mortgages.
The most recent data from the National Guarantee Fund for SMEs (FNGCIMM) indicate that the number of state-guaranteed loans issued in the first semester has dropped y-o-y, contradicting the idea that demand is on the rise.
In the first semester of this year, some 11,000 guarantees were issued, below the approximately 13,000 issued in the first semester of last year, show FNGCIMM data.
According to the same source, beneficiaries are mostly young people aged between 26 and 35 who have opted for one-bedroom apartments. About half of the loans were taken out by beneficiaries from Bucharest.
Between 2009 and July this year, over 119,200 guarantees worth approximately EUR 2.3 billion were issued for mortgages totaling EUR 4.56 billion. The average value of a loan taken out through the program is EUR 38,300.
Half of the RON 2 billion the FNGCIMM has available this year for such lending was used in the first semester.
Prices plateau
The market should move by no more than 5 percent over the next 12 months, expects Necula. "These are normal fluctuations on a mature and stable market, which is something that the segment is heading towards. We will definitely not witness significant price hikes or drops like before and after the crisis, but more likely stabilization," she predicted.
Indeed, the average asking price for Bucharest flats increased by 1 percent in the first semester compared to the beginning of the year, according to data from real estate portal Imobiliare.ro. This means that the average price per sqm is now EUR 1,073 compared to EUR 1,062 six months ago. While asking prices for new apartments have remained relatively stable (at EUR 1,183/sqm), owners of old apartments have increased their expectations (to EUR 991/sqm, up from EUR 982/sqm at the beginning of the year).