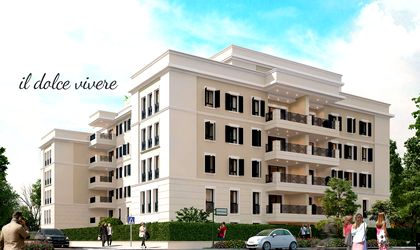 Homing Properties, a local leader in the luxury residential market announces the completion of the Trastevere residential complex in Erou Iancu Nicolae Boulevard 84. Consisting of 48 apartments and 3 commercial spaces, the building has its own parking, includes a gym, a socializing area for the residents of the building, an indoor playground for children and a pool with a 500 sqm footprint on the roof.
The residential complex covers an area of ​​about 6,000 square meters, and the value of the investment amounts to about EUR 6 million.
"At this moment we still have available for sale a spectacular penthouse, 3 apartments on the ground floor with very generous gardens and a few 3 and 4 rooms apartments. Most of our clients are between 35-45 years old, have an above average income, an active social life and adopt an organized lifestyle; this is why the proximity of top educational institutions and shopping centers is important for them", said Tomas Manjon, one of the founders of Homing Properties.
"The architecture of the project was a success, we noticed that several real estate developers have copied our facade, and this shows that the market is beginning to change and is being built with a greater focus on investment in beauty. We invested in quality finishes and comfort", adds Tomas Manjon.
Homing Properties has in its portfolio 2 more residential complexes, Triana, on Pipera Road, with 51 apartments, for which the completion is estimated in Q4 of 2020, and another 45 apartments project in the Gradina Icoanei area in Bucharest.
"For the year 2020 we want to consolidate our leading in the luxury residential market, and we will focus on increasing our portfolio of projects in the Pipera area and in other very special locations in central Bucharest", explains Tomas Manjon.
The real estate development company Homing Properties was created by 3 Spanish entrepreneurs, Tomas Manjon, Diego Stuyck and David Tortosa. They also own the Romanian construction company Mantor. In total, the 2 companies have 60 employees and a cumulative turnover of approximately EUR 12 million.