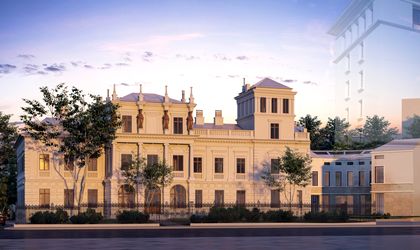 Real estate developer Hagag Development Europe submitted recently the complete documentation in order to obtain the building permit for consolidation and restoration works on Știrbei Palace (Calea Victoriei 107), a property classified as a class A historical monument, representative for both cultural and historical heritage of Bucharest.
The company has successfully completed all legal stages prior to receiving the authorization to build and has attained the necessary approvals and agreements, including from the Romanian Academy and the Ministry of Culture, and is ready to start, without delay, the consolidation works on the palace. Immediate works ar in order to avoid irreversible damage and the imminent collapse of the building.
"We are animated by the idea of reviving Știrbei Palace and of actively contributing to the renewal of the area, as well as to the preservation of local heritage. Unfortunately, Stirbei Palace is a construction as spectacular as it is vulnerable. Given the historical and architectural importance of the building, but also the urgency of the proposed interventions, necessary to prevent the aggravation and permanent alteration of the resistance structure and facades, we are confident that we will have the full support of the competent authorities and receive the building permit for the consolidation and renovation works of the Palace within the term provided by the current law, without delays.", said the representatives of Hagag Development Europe.
Neglected and dismissed over the past 70 years by the former owners and authorities alike, Știrbei Palace finds itself today under an advanced state of degradation. Moreover, over the past 15 years, public authorities – the Ministry of Culture, Bucharest City Hall and District City Hall, have refused to exercise pre-emption rights over the property, although more than one opportunity aroused. Today, its owners have not only the intention, but also the financial capacity to save and recondition the historical monument, and any postponement of the interventions upon the facade or the postponement of consolidation works increase the vulnerability of the building and the risk of collapse.
"We salute the initiative of the local public administration to protecting heritage buildings, as well old buildings located in protected areas by launching under public debate the Municipal Restoration Program and we fully support this approach. Such properties of historical value, especially those located in the old city centre or adjacent areas, are a real source of economic growth and sustainable development. We appreciate that the Stirbei Palace (Calea Victoriei 107) deserves the same chance, but in order for this to become possible it is imperative to have a good collaboration and an open dialogue with the representatives of the Bucharest City Hall.", the company's representatives added.
The project submitted for authorization, H Știrbei Palace – whose value amounts to EUR 20 MLN, sees the consolidation and complete restoration of the building with all exterior and interior decorative elements, and when completed it will be accessible to the general public precisely by the nature of its functionality, as assigned by the owner.