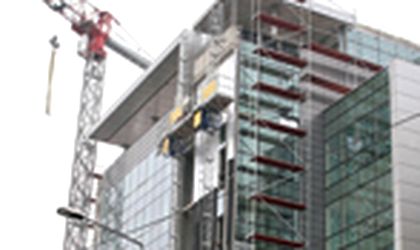 "The effects of the global crisis were felt on the Romanian market too in 2008. Unfortunately, due to the poor understanding of the phenomena which caused the crisis, its effects were artificially amplified in Romania and the market dropped more that was needed," Bogdan Georgescu, managing partner of Colliers International in Romania, tells BR. The lack of economic knowledge of the situation has led to a general panic, which created a psychological blockage in the economy and slowed down the development pace of the country, he explained. "The crisis eventually led to canceled financing for many developments or acquisition projects, which for us meant a considerable diminishing of large deals with revenue-generating properties, like land acquisitions and investments," says Razvan Gheorghe, partner managing director with Cushman & Wakefield.
Real estate consultants were not the only ones affected. "The main challenge of 2008 was the sharp pullback in the availability of debt finance. This simultaneously affected all facets of the market including investors, developers, consultants, occupiers and consumers. While some players may be positioned better than others, nearly all are looking at lower values and revenue forecasts going forward," says Charles Krick, national director at Jones Lang LaSalle.
Residential takes big hit despite prior demand
Everybody expected residential to be the most thriving sector of the local real estate market. The ingredients were there. Developers had some 10,000 apartments in plan for delivery and investors had placed bets by acquiring off-plan apartments in bulk, intending to re-sell them. There was demand and the economic data looked good – until the crisis started to bite into the local market as well. Banks became reluctant to offer mortgage loans and the Romanian Central Bank changed the lending rules which made it harder for buyers to access them. Meanwhile, buyer confidence decreased, stalling new apartment sales even more. Market confidence dropped, and a while after old apartment sales froze, new apartment sales also ground to a halt.
The lack of money, either debt or equity from apartment down payments, made it difficult for some developers to follow through on all their announced investments. Debt, one of the major sources of cash to fuel investments, became more scarce, not only for residential developers, but for all developers on the Romanian market. Projects were stalled – some totally canceled, others juts delayed until better times. Developers like Copper Beech, RomReal, EFG and Fabian, among others, have frozen their residential projects, which should have brought thousands of new apartments onto the market.
Those with apartments up for sale are now trying to overcome decreasing sales with special offers to attract customers. Developers have cut apartment prices, offered free furniture, parking spaces, offered to pay notary fees or VAT, even pay rent or allow buyers to rent the apartments until they are able to secure loans to pay for them. One developer has even offered to pay the value of the rent a buy-to-let investor in the project would seek to obtain, if the apartment owner was unable to find a tenant for the apartment. Despite falling sales of new apartments, which have affected the income of residential brokers, they think the market will see a revival soon, when banks re-start to offer loans. The recent BNR rules relaxing mortgage loans are expected to have an effect on the residential market. The local market is still under-supplied on the new residential segment and both developers and brokers are confident they will be able to build and sell the planned apartment, although on a different time scale from initially estimated.
Unlike saturated markets in Western Europe and even some in CEE, when the crisis hit, the residential market in Romania was far from meeting the needed supply, so its slowdown was more related to external reasons, like the lack of capital and falling buyer confidence, than on internal factors, say industry players.
Investors in off plan apartments finally came on the market and addressed end-users in the second half of last year, as most of their apartments in stock were nearing completion. It was a first on the local market, a move which finally created the secondary residential market.
Premium residential properties, as well as the secondary investment market, made up of small buildings in good areas and priced at some EUR 4-5 million, will be the first to revive, Tim Wilkinson, managing director of DTZ Echinox, tells Business Review.
Investment market halts, only previously negotiated deals get sealed
The investment real estate market has stalled in Romania and nobody knows exactly when transactions could restart. Eyes are on the second half of this year, when investors could regain access to banking financing. Although several transactions have been inked, there are no usable benchmarks and everybody awaits the re-pricing of properties, some with hope they will buy cheap, others with fear of how much they would lose by selling cheap.
One of the biggest buyer of real estate assets in Romania and, until recently, the biggest real estate owner in the country, Austrian fund Immoeast has seen decreases in its portfolio value and losses. The fund has halted some of its projects and canceled others, freezing development altogether. It posted losses on devaluations and write-downs, and is currently restructuring its business, while in negotiations with banks to receive new financing. From a continuous buyer, Immoeast was prepared to turn seller, and was looking at selling its properties to secure liquidities, but the financial crisis made it impossible.
The fund says the current liquidity problem stemmed from management decisions in 2007, which was Immoeast's most active year in purchasing properties in Romania. With a new management on board, the Vienna Stock Exchange-listed fund saw its Romanian stock of properties falling in value by more than EUR 2 billion and in volume to reach a list of only 80 properties, from 134 mid last year. The difference in volume of portfolio was made by delayed and canceled projects, while the value was influenced by increasing market yields, of around eight percent, according to Immoeast's latest financial report.
Increasing yields, as well as the lack of reliable valuation criteria, have made it difficult for appraisals to evaluate properties on the local market, and all are waiting for enough real estate transactions to restore criteria.
The Romanian market did witness several real estate deals last year. The biggest of them, the EUR 340 million sale of Upground to RREEF investment fund, was also the highest value deal on the local market so far. Real estate deals reached some EUR 1 billion last year, compared to some EUR 2 billion in 2007, which was the peak. Most of the bigger deals were signed in the first part of the year, and although analysts were expecting the market to warm up in the second half, it didn't do so. Moreover, real estate brokers say that most of the deals signed last year were negotiated in 2007, and that very few investors started to negotiate new acquisitions in 2008. Most of the negotiations in the second part of the year were frozen due to lack of financing, say pundits.
More recently, even deals which were thought to have been closed have come under renegotiation, like the land sale in the French Village in Bucharest, sold by businessman Costica Constanda to Greek Raptis Kavouras for what was then established at EUR 58 million.
Vendors' price expectations were higher than purchasers' ability to pay, says Kevin Harrington, head of office leasing and occupier services with JLL. The uncertain economic outlook caused many in the market to delay or take significantly more time to make real estate decisions, said Harrington.
Land deals were one of the formerly buoyant segments of the market which slowed down and was eventually blocked due to lack of transactions, although some high price deals were inked last year. With land prices having gone up above buyers' accepted levels and due to lack of equity to finance acquisitions of land plots, the land market in Romania was stuck.
What the future holds – an unforgiving market, but attractive pricing
For well-capitalized groups which didn't overextend their business, this difficult period could be an ideal time to consolidate operations and invest in strong assets at more attractive pricing, says Charles Krick, national director with Jones Lang LaSalle Romania. "Unfortunately, many groups did overextend their business and face shortages of capital. These players will find the market in 2009 to be unforgiving and will struggle to avoid bankruptcy," says Krick.
The lack of financing will lead to a significant drop in activity of land and investment departments, says Wilkinson of DTZ Echinox. But land and residential prices will use more realistic grounds, he goes on.
The real estate market in 2009 will first mean many small real estate firms will cease activity, which will increase unemployment, says Razvan Gheorghe. Secondly, all firms involved in real estate, from construction companies, to real estate agencies, lawyers and notaries, will see a stagnation or a drop in their activity. "There are comments about a slight comeback in the second half of 2009, but if we look at international analysis, 2009 will probably be the hardest year for Europe, says Gheorghe.
"The availability of finance will be the single most significant factor influencing the Romanian real estate market, affecting development of new stock, and relocation of tenants," says Kevin Harrington of JLL. "We expect take up of office space to reduce significantly from previous forecasts, by up to 40 percent," he adds. The properties with the greatest chances to see a deal are office buildings with mixed uses, in good locations and with a steady revenue, says Wilkinson. The delay of several office projects due to lack of financing will lead to an increase in rent for available office space, while seeing steady demand. Rents of industrial spaces will see a slight increase, while rents for retail spaces will be stable this year. The main chance for the real estate market to bounce back will be the availability of loans – plus realistic pricing. "An important role will go to a re-assessment of prices, based on a better understanding between sellers and buyers," says Wilkinson.
"2009 will probably be one of the most difficult years so far for the local economy and the real estate market. I wish I saw the players which influence public opinion become more responsible in educating the public and understanding better what happens in the economy before delivering negative gossip or news. A correctly informed and a more educated market could be a step forward in exiting the crisis," concludes Bogdan Georgescu.
By Corina Saceanu
corina_saceanu@bmg.ro