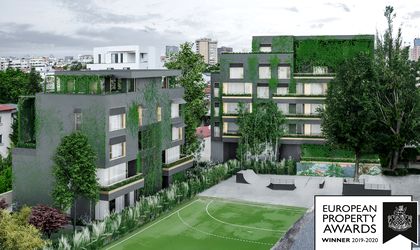 Forty Management, a real estate developer awarded internationally for premium, green projects, announces that has sold off-plan 90% of the Central District Viitorului 134 residential project. The mixed-use development with a value of Euro 11.5 million is scheduled to be finalized next year in June.
Central District Viitorului 134 is the first project in Romania that mixes a real estate development with unique manifestations of urban art signed by well-known street-art artists. The property fence, the entrance's main lobby and floors' lobbies will be decorated with art works of several artists especially booked for this project. The most impressive piece of art will be a blue giraffe, built and assembled on-site, that "feeds" itself with the leaves of the pergolas, on two floors. Central District Viitorului 134 is also the first residential project located in the center of Bucharest with direct access to a tennis, basketball and football field, at night, exclusively for residents. 
"Becoming a resident in Central District Viitorului 134 is an opportunity due to the access to a high quality of life, given by its central location and, at the same time, the safety of a small community. The apartments were designed with attention to each detail: proportions, natural and artificial balance of the light, the best view, premium varnishes and technical solutions. It stands as a valid prove of our commitment to continue the series of emblematic projects, with a vision and design that bring sustainable value to the city. Each project accomplished under Central District trademark gives us the opportunity to restate and promote the company's values related to quality, sustainability, high technology and special attention to details and design. These values are the ones that made our commitment become a responsibility not to accept mediocrity", says Lucian Azoiței, CEO Forty Management.
Located in the central part of Bucharest, Central District Viitorului 134 is a boutique project, "Green Building" pre-certified that also meets the nZEB standard. It includes 40 spacious apartments, divided into 2 buildings, an office building and a commercial space covering 1.000 sqm. 
The project is the winner of the "2020 Residential Development Romania" award offered by the International Property Awards London, for the best residential development in Romania.