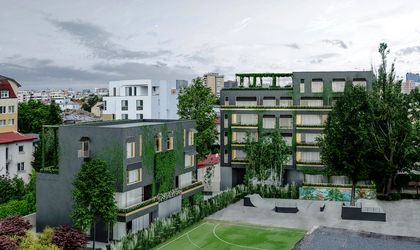 Forty Management sold 175 apartments in the two residential projects under development and it is developing 234 apartments in the two international multi-award projects: Central District 4 Elemente and Central District Viitorului 134.
The 2019 sales report shows that the Romanian developer has sold this year 175 apartments, 80 percent of the project Central District 4 Elemente and 50 percent in the Central District of the Viitorului 134, totaling 17.1 million euros.
The construction work for Central District 4 Elemente has already started and the apartments will be delivered in September 2020. At the Central District of the Viitorului 134 the developer expects to start the works in January 2020 and complete them in May 2021.
The company has rented 2,043 sq.m. this year from the commercial area of ​​Central District 4 Elemente and 134 Central District Viitorului projects out of a total available 2,787 sq.m.
Forty Management is in talks with an investor for the purchase of the last 43 vacant apartments in Central District 4 Elemente, for rent & buy.
"We hope that by the beginning of next year we will completely close the sales for Central District 4 Elemente, a mixed project with 201 apartments, 9 months before its completion. At the Central District Viitorului 134 we have already passed the critical mass and we have strong feedback from interested customers that we will close the sales by the middle of next year, at this rate. The good results and the positive reception of the projects in the market are a proof of the success of our concepts #AffordableLuxury and #SmartDevelopment, of the confidence we enjoy and we thank all the clients for this. We are ending a very good year, and for the next year we are preparing projects that will reset the standards of the real estate market in Romania, keeping of course the excellent quality-price ratio, which we have been promoting since the company was founded," says Lucian Azoiței, CEO of Forty Management.
Commercial and office spaces
Forty Management also sold the commercial spaces in Central District Viitorului 134 and Central District Cuza 99, both already contracted for rent, with a value of EUR 1.1 million.
Forty Management developer is already working on the development concepts for new real estate projects located in the northern area of ​​Bucharest and which will be launched on the market next year, and remains faithful to the unique concept imposed, from the beginning, on the market: Affordable luxury, quality high housing at decent prices.
Central District 4 Elemente is the first residential project in Romania with an outdoor cinema and running track arranged on the roof, and Central District Viitorului 134 is the first project in central Bucharest, which facilitates residents' access to a tennis court. Both projects were the winners of the international awards for real estate development for Romania, at the last edition of the International Property Awards, London.