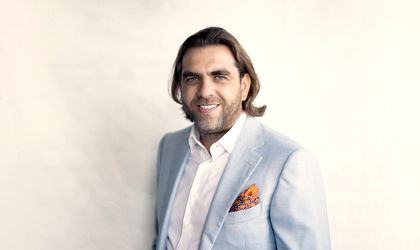 Forty Management, the innovative green developer of mixed-use and urban reconversion real estate, announces that the mixed-use development Central District Viitorului 134 (https://centraldistrict.ro/viitorului134/) has obtained the Green Homes certification from the Romania Green Building Council (RoGBC), which is awarded to a finalised real estate development.
Central District Viitorului 134 was completed in the first quarter of 2023 and had a gross development value of EUR 12.4 million. Sold entirely before completion, the development successfully passed a series of inspections and was certified as meeting energy performance and environmental responsibility criteria and targets.
The mixed-use development includes 40 apartments with modern design and premium finishes, arranged in two buildings alongside a boutique office building. The central development benefits from an underground car park, commercial space on the ground floor of building A, garden apartments on the ground floor of building B and penthouse apartments on the upper floors.
The Green Homes certification was awarded based on meeting the sustainability criteria, including: high energy performance according to nZEB (near zero energy) principles, high level of comfort due to green spaces, materials and finishes that provide a high quality indoor environment and a positive impact on the residents' health. The apartments in Viitorului134 also benefit from low water consumption toilets, efficient irrigation and green spaces. Central District Viitorului 134 is also the first project in Bucharest to meet the nZEB green standard.
"In a context where the EU has just adopted stricter rules to increase energy efficiency, the Green Homes certification obtained by Central District Viitorului 134 is another step forward in our goal to develop only sustainable projects in Romania and across the region. Moreover, we are among the first Romanian developers to implement energy efficiency and carbon footprint strategies even before the requirements of national legislation", said Lucian Azoiței, Forty Management's Founder and CEO.
—
"All these energy efficiency measures ensure both a healthy living space with minimal environmental impact and reduced monthly costs through significant energy and water savings, as well as access to special interest loans for green buildings", added Ana Ciobanu, Forty Management's Executive Director.
Green Homes is an international certification system designed specifically to improve the residential sector. It encourages the construction of better quality, healthier housing with financial benefits for the residents. Green Homes is the leader in certification systems for buildings, measuring their performance in terms of their sustainability. The system is internationally recognized and acknowledged by the European Commission as a model of good practice.
Leveraging its know-how in terms of sustainability and experience in innovative real estate development, Forty Management has begun the works for its state-of-the-art major scale-up urban reconversion: Central District Lagoon City, which involves an over 120 million EUR investment. The project will implement for the first time in Central and Eastern Europe an artificial, 10.000 sqm patented Crystal Lagoon along with 5.000 sqm white sandy beaches, which practically brings the sea to the city. Lagoon City will also include a 5* hotel with 323 rooms, residential, office, commercial areas, restaurants and a lot of amenities and facilities. This outstanding project will be the first large-scale mixed-use development to meet the self-sustainable standard (with all the utilities produced on site) and a scalable project to be developed as well in Budapest, Prague and Warsaw.