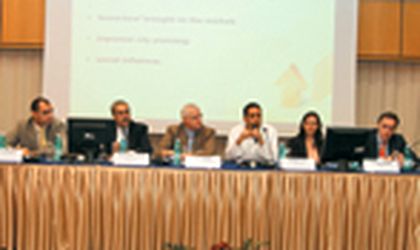 Last week's ninth edition of BMG's Realty event, dedicated to real estate professionals, has mirrored players' perception of the market through both hard data and market feeling. Developers, investors and real estate consultants underlined the recent changes the market has gone through, along with its strong and weak points.
Tal Roma, business development manager with AFI Europe, one of the developers active on the Romanian market, said the country has entered the advanced era of shopping malls, and the number of new international developers that have entered the local market is a sign of its maturity. On the retail segment, retailers will go with the networks of malls which have started to take shape across the country, said Roma.
The market is in a period of stagnation, with investors playing the waiting game on many deals. By the end of this year, the total value of real estate deals in Romania will be lower than the value in 2007, considering the evolution on this segment in the fist part of this year, said Tim Wilkinson, managing director of DTZ Echinox. EUR 400 million of real estate deals were signed in the first five months of the year in Romania, according to Wilkinson. Offices and retail will stay at the top of investors' priority lists for the country this year, he believes, but price and yield adjustments will occur.
Angela Rosca, managing partner with TaxHouse, underlined the current tax implication of real estate deals in Romania, starting with financing the input VAT on real estate acquisitions. This has been shifted to final customers, which need to pay the acquisition price with VAT and reclaim such input VAT later.
Simona Negoita, credit division manager with Regatta, spoke about financing solutions, while Andrei Arghirescu, general manager of EKA Investment Group, delivered a speech on the options developers have nowadays: build to sell at open market value, build to sell at market yield or build to lease. Razvan Tudor, managing consultant with Horvath & Partners Management Consultants, spoke about project control as a tool for ongoing projects.
The Romanian residential market is evolving differently from its Eastern European peers. Due to speculative land deals, the cost of land has gone up, so the prices of new apartments couldn't go down, said Avner Bar, general manager of developer Ocif Group. "The butterfly effect can be felt on the Romanian market," said Bar. "I don't know how somebody can sell an apartment in Bucharest for below EUR 1,500 per sqm, when the construction price per sqm is EUR 700 to 800."
With residential being the most accessible segment of real estate to invest in and real estate developments so fashionable nowadays, 40 percent of the properties on the market are overvalued, said Ionut Bordei, head of the residential department with CB Richard Ellis Eurisko. Land is too expensive today for development and the market lacks professional developers, he said. "Prices are set in comparison with what the neighbour asks, not what the neighbour gets," said Bordei. His opinion is that Romania is not in the middle of a financial crisis, and if buyers and developers are refused by banks, it is because they cannot afford the loan they are applying for. The market is going through changes which are making it more professional, and the residential boom is not ending, but just beginning, concluded Bordei.
Demand on the residential market varies from 500,000 to 1.5 million units, according to estimates, and the gap between demand and supply is huge, said Diwaker Singh, president and CEO of developer Copper Beech. The projects started in 2005, when things on the residential market started to move, are low quality, and developers need to address the issues of credibility, customer sentiment and perception, said Singh.
Some 2,000 new residential units were sold in the first quarter of this year, while 1,000 units were delivered in the same period, according to Ilinca Paun, head of the residential department at Colliers. The recent residential index launched by Colliers indicates a price of EUR 1,888 per built sqm. Paun expects the number of transactions to decrease, after 500 units in 42 projects were sold during April and May. She also expects the residential offer to grow less than in the previous period due to financing problems developers might have, and for many projects to be carried out in partnership between developers and investment funds. Supply will meet demand on the residential market in 2012, she said.
Transactions on the market decreased by 20 percent compared to last year, said Nikolaos Stathakis, CEO of QLD. He believes the demand will outstrip supply, mainly in the residential sector, for another five years.
The market will see a slowdown in the speed of development due to less available equity triggered by the international financial crisis. Developers will see lower development margins, not more than 17 to 20 percent of the value of the building, said Stefano Albarosa, CEO of Cefin Group.
Fewer players are looking to buy property in Romania, and some of them have even left the arena, according to Gijs Klomp, managing director of ING RE Investment Management in Romania. Countries are affected because of crisis sentiment, not because of fundamental problems, said Klomp. The market has turned from a borrowers' market into a landlords' one, he added. The yields in the region have increased, so Romania would need to offer more to attract those looking for an investment choice in the region, said Klomp. "Investors can now buy offices in London for the same price America House in Bucharest was sold last year," says Klomp. (AEW Europe bought America House from developer GTC last year for EUR 120 million.) Romania is temporarily less attractive, but it will be soon re-priced, he concluded.
The office segment should reach a stock of 1.7 million sqm in the next three to four years, according to Costel Florea, head of capital markets with Cushman & Wakefield Activ Consulting. The Pipera Tunari areas of Bucharest offer a current and planned stock of 500,000 sqm of offices, with Barbu Vacarescu being a second spot for office developments in the capital city, said Florea.
Some 43 percent of the future offices are already leased according to Viorel Lacatus, investment director with Atisreal Romania. The value of real estate deals in Q1 and Q2 of 2008 amounted to EUR 570 million. Recent buyers like Deutsche Bank's RREEF and Natixis' AEW Europe have made 78 percent of the deals this year, said Lacatus.
Two workshops on human resources in real estate and on green buildings, both timely topics on the local real estate market, ended the Realty marathon. Delia Burnham, country manager of CVO Recruitment, Dana Patrichi, managing partner with Alexander Hughes Romania, Razvan Ilie, HR consultant with AIMS Human Capital Romania, and Nicoleta Radu, commercial director with Westhouse Group, spoke about the difficulty of finding human resources for real estate in Romania, and candidates asking for more benefits than their skills could justify.
Anthony Willats, head of the Romanian office with Chapman and Taylor, and Corneliu Belciug, editor in chief of the Green Report magazine, tackled the green building issue in Romania, an initiative which faces a lack of resources, from knowledge of how developers should build green, to lack of green construction materials.
By Corina Saceanu