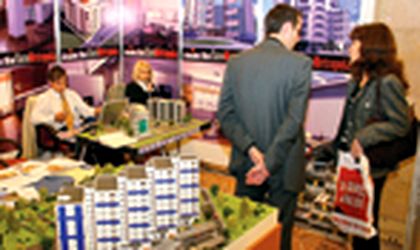 As Bucharest still leads the pack on the ongoing and delivered projects, the sums invested and the number of big developers running local projects, there were 10 real estate events and exhibitions organized in this year in the capital city. By comparison, there were only three fairs on the real estate market organized in other regions of the country. "Money and houses" took place in Sibiu in April, "Condominium Fair" was organized in May in Cluj and Timon opened in Constanta, also in May.
Visitors to the fall edition of Timon real estate trade fair signed contracts worth EUR 3.2 million during the fair and sealed reservations worth EUR 4.6 million, announcing a potential sales value of EUR 10 million subsequent to the fair, the organizers have announced. The fair attracted 24,000 visitors in its five days and displayed 100 real estate projects consisting of 20,000 homes built by 40 developers.
The fair representatives had predicted sales of EUR 15 million.
"It is clear that we find ourselves in the middle of a real estate boom and we can expect more and more accessible offers soon. Cheap projects are sold immediately, without any advertising. These projects are either 'bait' or they are being sold for real to foreign investors or investment funds," said Vlad Vlasceanu, director of Timon fair. The event exhibited and offered apartments ranging from EUR 32,900 up to EUR 1 million in value, coming from various portfolios of national developers and some big international ones such as Hercesa, the largest real estate developer in Spain, GTC, which develops projects in eight Eastern European countries, and Mivan, the British developer which has been operating in Romania since 1998.
According to the companies participating so far in real estate fairs, residential projects ranging from EUR 100,000 to 150,000 represent the most appealing offer due to the general financing offers which encourage loans of up to EUR 150,000.
During the fourth edition of the National Real Estate Fair (TNI) which closed two week ago, 30,000 apartments, 2,500 villas and 500 holiday residencies were exhibited, as well as opportunities for purchasing 500,000 sqm of land, with offers from 118 companies.
"The offer addressed a wide range of buyers. The least expensive project displayed was located in a holiday resort in Bulgaria. It costs EUR 8,000. The most expensive local one was a house located in the Primaverii area in Bucharest, for EUR 4 million," said Adrian Bercea, general manager of BDOBC company, organizer of the event.
The fair also exhibited studios located in Bucharest with prices ranging from EUR 26,000 to EUR 46,000 not including VAT. At the end of the fair, the organizers announced that 17,000 visitors had attended and several hundred reservation contracts had been signed.
The third edition of the real estate fair Condominium organized last week exhibited 83 residential compounds of 75 real estate companies and 15 residential projects. According to the organizers of the fair, the total value of the displayed projects is estimated at EUR 3.3 billion. "The number of residential projects exhibited at this event has increased six fold compared to the last edition of Condominium. The fair showcases a wide range of projects and prices, from studios priced at EUR 47,000 not including VAT, up to a penthouse worth EUR 1 million," said Felicia Iordache, director of Plus Media, one of the organizers of the fair.
Another trend noticed by real estate fairs organizers is that Romanians have started to increase their interest in acquiring properties in other countries such as Bulgaria, where the market offers a studio for EUR 59,000 or a penthouse for EUR 652,000, less than in Romania. The organizers of Condominium fair target other cities such as Timisoara for next year because of the developing local real estate market, and even the eastern side of the country from 2009.
Another idea was organizing a permanent real estate fair in Bucharest. Strategic Business, a company established this year resulting from a Romanian, British and American partnership, invested EUR 600,000 in an exhibition center of 2,000 sqm and with a capacity of 72 exhibition spaces in the Dimitrie Cantemir area of Bucharest.
"We rented a former industrial space for two years and we have already forwarded invitations to 30 real estate developers and 20 agencies. We estimate the launch date for this fair at November 10," said Nicu Stanciu, administrator of Strategic Business. He added that the fair could expand and relocate to a wider space of 5,000 sqm from 2009.
Real estate pundits say the current local market trend relies on a steady evolution of prices for projects launched in the past but also on a long-term price increase because of the many accessible projects seeing a high demand.
"This is the autumn with the highest real estate offer. There are affordable offers which sell immediately, even without being advertised, and we estimate the first signs of lower prices will come in 2008," said Vlasceanu, director of the Timon fair.
Magda Purice