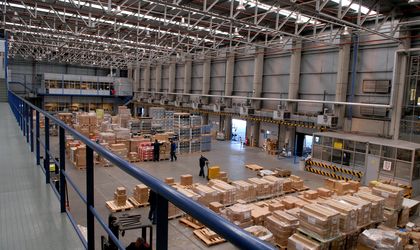 Companies from Poland, Czech Republic, Serbia, Western Europe or Asia are looking at Romania more and more when deciding to extend their activity in southeast Europe. They seek cities with good highway connections or access to the sea, as Dunwell data show, after the company sent a Romanian delegation to Transport Logistic 2019, the most important Industrial and Logistics event in Europe, held in Munich, Germany at the beginning of June.
The development of infrastructure, foreign capital absorption, highly qualified personnel, and expanding opportunities have all led to more investors coming to Romania and developing the industrial and logistics sector. Romania's presence at the fair confirms, once again, the high interest it raises.
"We had meetings with several companies specialized in the Industrial and Logistics sector and we have observed a high interest for future development in Romania. Compared to the last edition, which took place two years ago, the discussions were more focused and with higher interest for key areas in our country. Companies from Poland, Czech Republic, Serbia, Western Europe or Asia are analyzing the investment opportunities in Romania and we expect new investors to enter the Romanian market in the future," said Marian Orzu, managing partner at Dunwell.
Railway and port accessibility make Romania a great destination for Asian companies looking for a better European presence, and our country has a very good connection to the west, Dunwell specialists explain.
"We've had meetings with several Asian companies – from India to big business centers such as Hong-Kong or Shanghai – all of them interested in investing in Romania, due to its great connection to railway and sea transportation means. Constanta could become an important business hub for such investors in the coming years, mainly from Asian companies who aim for a more significant presence in Europe," said Daniel Cautis, managing partner at Dunwell.
Main trends for the industrial market in 2019
According to Dunwell representatives, 2019's main trends on the industrial market are:
eCommerce and inner-city logistics continue to gain ground;
New local and international developers have joined the competition;
Exploring new locations has become a must.
In 2018, the supply of industrial spaces increased by 30 percent y-o-y to 3.5 million square meters, while in 2019 Dunwell estimates it will exceed the 4 million sqm mark.
Last year, CTP generated 60 percent of the new supply, while WDP obtained 43 percent of new (pre)leases and P3, another important developer, announced their second industrial park, near the A1 highway.
Bucharest stayed on top when it came to new deliveries, followed by Pitesti, Timișoara, Sibiu, Craiova, Ploiești and Brașov. The demand in Bucharest was roughly 0.7 million sqm in total, where 77.5 percent consisted in new leases, and 22.5 percent were renewals and renegotiations.
Retailers accounted for more than 42 percent of the total demand, followed by Logistics companies and FMCG.
While in 2018 the Bucharest vacancy rate was around 5 percent and the average headline rent was about 4 EUR/sqm, we are expecting that the 2019 leasing market will be characterized by more competitive rent levels, more flexibility form owners and developers or incentives.
The new industrial supply is expected to add another 750.000 sqm to the market, more than a third being located in Bucharest. 65 percent of the new supply is to be located in the regional cities, where new projects are about to be developed in Craiova, Constanta, Buzau, Bacau or Iasi.
New developers are likely to rise in the industrial market, such as MLP Group, Element Industrial or Global Vision, with MLP and Element Industrial close to finalize the first phase of their projects – MLP Bucharest West and Eli Park 1, and ready to start the next phases of their projects.
"In the first half of 2019, a higher number of transactions have been recorded compared to the same period of 2018 and the traded surface has been higher, with 120,000 sqm traded through specialized agencies and nearly 50,000 sqm within direct transactions. The average surface transacted to date in S1 2019 is about 6,000 sqm," said Orzu.
Availability and demand in Bucharest
"We see a high availability for land developments in the Western part of Bucharest, considered as the main industrial area of this kind, with only 8 percent of the total surface being owned or in use. This is the reason why there is a constant pressure on the rent prices near A1 highway, but this is offering the developers a more flexible approach. Therefore, new areas, such as North and North-Western side of Bucharest have attracted new developers whilst the demand for Eastern and South-Eastern side of Bucharest is on the rise as well. At the end of the first half of this year, we can observe a higher demand for warehouses and a lower one for production units, which indicates an economy based strictly on consumption," said Orzu.
Bucharest is the leading city both in demand and industrial development, with Timisoara coming in second and Ploiesti third. Cluj-Napoca is occupying the 4th place, but with lots of interest for land acquisitions and future developments. Cluj-Napoca is also the most expensive city when it comes to land purchase for industrial purpose.
The interest is high for cities with good connection to highway infrastructure, but cities such as Constanta –  for its port access  – or railway hub cities like Brasov, Craiova or Iasi rise interest for future investors, who are aiming at  boosting their presence in Europe.