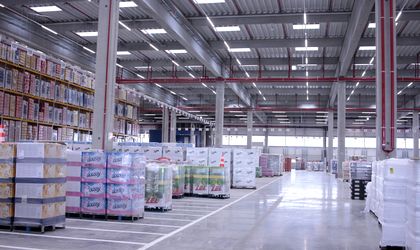 Dunwell has brokered the transaction whereas local company ABN Systems International, owner of Tellur brand, electronics and telecom accessories integrator and distributor, will occupy a 3,000 sqm warehouse space in Bucharest West area, which will ensure  sales growth locally, regionally and will support the company's global expansion.
This warehouse will be the place from where Tellur accessories and products will be marketed to IT&C specialized stores or online, both locally and in the markets of Western Europe, Asia or Africa.
"Tellur is continuosly expanding on the local market and internationally, a larger storage space being a must and a perfect choice for their development plans. We succeeded to identify the best solution for our client, which will ensure the 20 percent business growth for this year. Both IT&C & e-commerce represent a solid Industrial sector development, with increasing growth rates and demands Y-T-Y. This makes us see the Industrial sector developing quite well  in the years to come," said Daniel Cautis, managing partner Dunwell.
More and more industrial tenants are relocating their activity from old warehouses to newer, modern ones, which has been leading them to achieve better results, a safer environment and future development opportunities.
"Industrial market is on a continuous change due to the newest trends, set by the tenants, who have been seeking for a safer work environment, and by developers, who have been building modern projects to ensure the highest level of competitivity, and also securing their tenants for longer periods of time. Presently, more and more tenants want to relocate in Class A projects, seeing the difficulty in assuring their stocks and products in older warehouses, as insurance companies do not extend the policies to spaces that don't feature hydrants, sprinklers or anything that could prevent fire. Moreover, e-commerce companies keep growing << double-digits >> and seek for expanding their business in the near future. Reality is that the Romanians have been buying  online at an  increasingly fast rate, thus the increasing demand for industrial spaces used for warehousing", added Cautis.
Most of e-commerce tenants are looking at storage areas between 1,000 – 10,000 sqm.
"We are talking about those clients being on a steady expansion, such as Tellur, a company which doubled the storage surface occupied before. Big, traditional e-commerce players,  who registered a rapid growth in these past years, are looking at warehouses with surfaces greater than 10,000 sqm, which can support their accelerated pace of development", said Cautis.
The top locations for Industrial development remains Bucharest West, but with a high interest in NW of Bucharest, North or East also.
Tellur products, sold from Bucharest worldwide
Tellur brand was launched in 2011, being owned by ABN Systems International, one of the most well known distributors for many IT&C brands, globally recognized. Tellur products are marketed all offer the world, from Romania to Germany, France, Italy, UK, Spain, Poland, Hungary, Bulgaria, Albania, Serbia, Turkey, Israel or even South Africa, through local partners or online stores.
Tellur is selling the full range of smartphone and tablet accessories, earphones, connectors, speakers, car accessories, smart home products, the branded equipment being compatible with the most popular brands such an Apple, Huawei, Samsung, Sony, Lenovo, LG, Microsoft and many more.
With the extension of the storage area, Tellur's team also will reach a total of 70 employees, and the new space will help the company achieve a 20 percent business growth this year.
"We expect a 20 percent growth of the business, to EUR 23 million, a value that can be achieved due to the development of storage space and access to new international markets, such as Greece or Cyprus, South America or Middle East. Part of our expansion plan includes a consolidation of of our presence in the already active markets, but also we are taking into consideration the expansion towards new one, such as USA," said George Barbu, CEO Tellur.