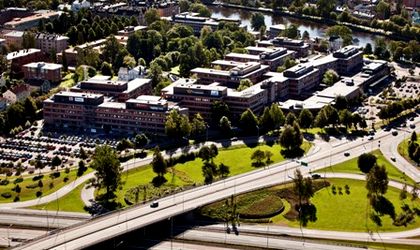 Dinu Patriciu Global Properties (DPGP) has sold its Karolinen Fasitigheter AB Sweden portfolio to Hemfosa Fastigheter. Karolinen Fastigheter AB (pictured) that comprises of seven offices buildings in the city of Karlstad totalling over 75,000 sqm. At present, the portfolio is over 95 percent leased. Tenants include companies such as GE, Länsstyrelsen i Värmland, Landstinget i Värmland, Lindebergs, SWECO Sverige AB, Domstolsverket.
 "With strong property conditions prevalent in Sweden and the fact we have been able to maintain a low vacancy rate and improving rent roll, this was an opportune time to exit this portfolio and concentrate on our core markets in other European markets," explained Mark Owen, property director with DPGP.
DPGP controls 117 real estate assets across five European Union member countries: Germany, Romania, Poland, the Netherlands and Belgium.
CBRE, Linklaters and Ernst & Young acted for DPGP on the sale.
Estimated at approximately EUR 1.3 billion, the Dinu Patriciu Global Properties (DPGP) portfolio was formed by combining 4 distinct portfolios. These were the Astra portfolio, together with Fabian Romania Limited, Deutsche Land PLC and Rutley European Property Limited. Approximately 60 percent of the portfolio is in Germany, 30 percent in Romania and 10 percent in other European countries. The DPGP asset portfolio covers a broad range of uses, with primary focus on office and retail.
The DPGP assets are managed by Dinu Patriciu Global Services (DPGS), a dedicated investment and development asset management Company.
Hemfosa Fastigheter is a Swedish company specialized in owning, managing and purchasing properties. The company was founded in July 2009 by an experienced team, headed by Jens Engwall, which has a solid background from transaction-intense and value-generating property companies. Hemfosa Fastigheter is owned by the management group and Nordic institutional investors.