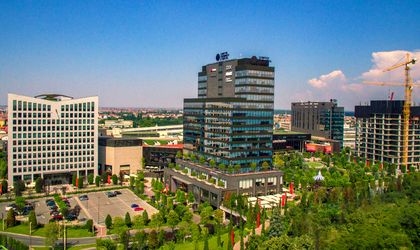 The German-based doctari group opened a technology hub in the Iulius Town mixed-use complex in Timișoara in order to enable the development of an integrated platform of the future. In 2022, 30 professionals are expected to join the hub with applications still open (doctarigroup.ro). With the use of the latest technologies like JavaScript, React and AWS, the full-stack product development teams can act autonomously and responsibly. Together, they are contributing to improving the lives of healthcare professionals as well as enabling medical institutions to perform more efficiently.
The engineers with doctari group are currently conducting their activities at temporary premises located in the United Business Center (UBC). As of the second quarter of this year, the company will be present in the UBC 0 building, upon completion of the fourth class A office building in the Iulius Town mixed-use complex.
With the opening of a technology hub in Timișoara, the doctari group aims to set up and further establish an integrated platform for the healthcare field. With strong partners at its side, doctari is creating a digital platform that comprehensively relieves healthcare facilities and medical professionals in personnel management. The central contact point connects the offers of the companies of the doctari group from duty scheduling through to identifying available doctors. This creates a digital marketplace that brings medical facilities and professionals together.
doctari group is excited to welcome many builders and technology experts to the new site in Romania. In Germany, the doctari group is located at six different sites, working together closely with physicians, nurses, and clinics all over the country to make processes smarter and more efficient.
Setting up the doctari technology hub in the Iulius Town mixed-use complex provides easy access to a variety of services located in the immediate vicinity. The features designed to improve the employees' work-live balance include more than 350 stores, a food court, restaurants and coffee shops for lunch breaks, a fitness center, multiplex cinema, kindergarden, and primary school, medical services, conference, and events center, more than 4,000 parking spaces, as well as another 600 bike parking spaces and a park.