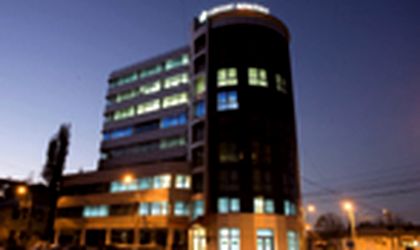 The boost of the local real estate market and the increasing number of projects, along with the more-than-satisfying returns on investments, have triggered not only new developers entering the market, but existing companies turning their business compass from their previous field of expertise to real estate.
Such companies have several ways of starting on the local real estate market. The most common of all is when the firms are backed up by mother companies or by a real estate division part of the group.
Austrian insurer Grawe bought the building last year in which it later set up its headquarters. Grawe invested EUR 7.5 million in a 5,200 sqm office building which was acquired from the initial developer, Italian Eitel, even before completion. It occupies only a part of the 11-floor building, with the rest being leased to other companies such as Camad, Evolva, Sterling Factor and Promark.
"Belonging to a large financial group means more funds for development, an expert analysis with experience on more advanced markets," explains Adriana Neagu of DTZ Echinox.
Why would an insurance company turn to real estate investments? The first and most common explanation offered by most real estate professionals is that companies prefer to build their own headquarters to avoid paying rent and gain from renting the remaining space to other firms. For Grawe, it was more than that. "We believe investments in real estate bring stability to a company, particularly to a company that works in the insurance sector as it eliminates the negative effect of possible fluctuations," explains Othmar Ederer, general manager of Austrian Grawe. The building is already 90 percent leased, according to data from Eurisko.
Buying the headquarters was neither the first nor last real estate project of the insurance company. Its first investment, smaller in size, was buying Simu Villa in 2001 for some EUR 1.5 million. The villa was Grawe's headquarters prior to expanding its activity and moving into the current office building and is now fully leased. As for future plans, the firm has EUR 5 million in store for further real estate investments by 2008.
Construction and development go hand in hand
Next in the procession of companies that are choosing real estate as a second business line are construction companies. "They get more advantages from investing in real estate developments as they have the necessary funds, the people both in construction as well as management and project promotion. They also have faster access to loans based on their cash flow and lower construction costs," says Oana Taraze, associate managing director with Eurohouse. An already known example on the Romanian market is Impact, which started out as a construction company and has added real estate development to its business. The company has even changed its name to better reflect the combination of two: Impact Developing and Contractor.
Construction company ACMS formed a partnership with Dutch group ING's real estate division last year to develop the S Park office building, a project evaluated at some EUR 30 million. The building should be completed by next spring. Already 75 percent rented out, it has 51,000 sqm of built area of which 30,000 sqm of lettable area on eight floors. ING Group, CMS Cameron McKenna, Zapp, Wizrom and Brau Union are among the tenants in S Park, data from Eurisko shows.
Own your own headquarters
Most of the companies start from the idea of investing in real estate, which is one of the most profitable sectors in Romania, and choose to build their own headquarters. Owning offices is part of the local mentality of being a landlord rather than a tenant which is mirrored in data on the market: around 30 percent of the houses in Western countries are rented, while in Romania, the figure is below 2 percent, according to DTZ. "Without following the model of large financial groups and looking more to invest, these companies' managers are attracted by this peak in local real estate. In most cases they start from building headquarters in a location of their own choice," explains Adriana Neagu of DTZ. The developing company may also choose to expand the project to host other companies as tenants too.
In other countries, firms specialized in a certain area of work will choose a build-to-suit option for headquarters only when no building of the size, technical specification and within the required time frame is available.
Security systems provider UTI Group is building its own headquarters on the premises of the former office building owned by the company. The new building, on which construction works started last year, will likely be ready by the end of this year. The ten-floor building, which will be located on Vasile Lascar Street, was designed by Westfourth Architecture.
Although UTI Group representatives declined to offer more information on the project, sources on the market put the investment at some EUR 18 million. UTI supplies IT&C products, electrical and mechanical systems for construction, as well as security systems.
IT&C company Ultra Pro Computers has also entered the real estate market by announcing late last year a EUR 5 million investment in an office building in the Floreasca area. It will cover some 3,200 sqm on a basement, ground floor and four upper levels. Construction works were due to end this month, according to previous announcements. Ultra Pro is planning to develop a new real estate project, company representatives said at the time the office building was announced, but gave no details on further projects.
The wave won't last
Chemical fertilizer producer Chimopar Bucharest decided in the middle of last year to start a real estate company and include the sale of real estate assets among the company's activities. The future company will be co-owned by Chimopar and Jafco Holding Romania.
Car parts producer Rolast Pitesti is planning to change its main area of activity in order to focus on real estate activities. The tire production will become a secondary focus for the company, according to its latest announcement. Shareholders are to debate the proposal during a meeting at the beginning of March.
"We cannot expect such companies to deliver more than one or two mid-size projects. These situations occur when there is a cash flow surplus and an opportunity connected to a well-located and reasonably-priced plot, and possibly to a future tenant for the location," explains Adriana Neagu of DTZ.
She doesn't expect the trend to become a general one. "The market is getting more mature, with more competitive projects and more demanding tenants. […] There's need for professional developers to build successful projects."