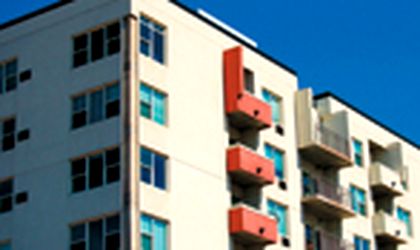 Three billion euros' worth of apartment projects were on display this month at a local real estate fair – but nobody signed a contract. Only 60 apartments of the 10,000 on display were reserved by potential buyers. The number of visitors at the fair dropped from 19,000 in September to 12,000 in October. Access to loans has been hindered by the new Romanian central bank regulations. Buyers also expect house prices to continue to go down and have been spooked by the financial crisis.
All in all, not the best market conditions to make a residential sale, so developers are having to find ways to convince people to buy by offering incentives for the apartments on sale.
Developer rents apartments out until buyers get loan
One of the latest promotions has come about in an effort to deal with potential buyers' belief that the price of apartments will fall and as a solution to the current impossibility of landing a loan. Local developer Impact has come up with two products to deal with the situation. The first, Ceiling Float Price Ramburs Apartment (CETIF), guarantees that the firm will pay the buyer back the difference between the price listed by Impact and the value of the apartment at a certain time, if the market price drops. The buyer will be able to claim this difference until December next year.
A second product from the same developer allows the buyer to live in the apartment upon paying a RON 20,000 down payment, and then paying a monthly rent for four years, until the buyer is eligible for a loan. The total rent and the down payment will be discounted from the final price.
"Research undertaken by our company has shown that a considerable number of people, with a real and urgent need for a home, are not buying because they prefer to wait and evaluate the evolution of the market, or are not ready to take out a mortgage," said Carmen Sandulescu, financial executive director with Impact Contractor and Developer. The offers are valid for Impact's projects in Bucharest (Greenfield Residence), Constanta (Boreal), Oradea (Lotus) and Ploiesti (Roua).
Impact's second offer is similar to an option other developers or investors might consider in the future, that of renting, rather than selling, the unsold apartments.
Discounts, furniture, parking spaces, VAT
The usual promotion consisting of a five to ten percent discount on price, or maybe more, for buying within a certain time frame, or a smaller down payment has not been enough to convince the masses, so developers have had to think of more sophisticated incentives.
First it was the furnished kitchen, and discounts on buying furniture from certain retailers with whom the developer had negotiated a partnership. Then it was the parking space which came for free with the apartment, which showed that developers were willing to cut some of their expected profits to start making more sales.
The long expected correction in the price of new apartments has now started to happen, and several developers have cut prices. Real estate developer Gigant Construct is selling ten apartments in its Pallady Towers residential project for EUR 1,000 plus VAT per sqm. The developer is slashing prices for the second time: the initial asking price of EUR 1,400 was cut to EUR 1,180 per sqm just one month ago.
Local developer Imoinvest, controlled by Iosif Pop, has also started a promotion, which will run until December this year, for its projects Dumbrava in Sibiu and Imo Confort in Floresti, Cluj county. Called "Houses for friends", the scheme offers discounts to buyers who convince their friends to buy in the same project.
My Family Residence project in Timisoara came with a spring promotion of discounts for two-roomed apartments as well as free kitchen furniture, while for three-roomed apartments, the free kitchen furniture was joined by a free parking space. Buyers of three-roomed apartments were also offered a discount of 15 percent.
Elsewhere, the developers of Asmita Gardens have decided to cover all the notary taxes incurred by people buying properties in the project.
Meanwhile, the developer of Confort City, Confort Group, and that of Obor Towers, Digal Investments, are giving away a fully furnished and equipped kitchen along with the apartment.
The developer of Obor Towers has further offered to pay the value of the rent a buy-to-let investor in the project would seek to obtain, if he or she were unable to find a tenant for the apartment. Obor Towers has guaranteed to find a tenant or pay the new owner the rent, at the market level for the area.
"If a purchaser wants to buy an apartment as an investment in the residential complex, but doesn't have confidence that they can find a tenant, we offer them one, or the rent for two years," states the offer from Obor Towers.
At the high end of the market, Quantum Consulting & Management, developers of Adnana Residence, have come up with an unusual offer: a house in Buftea and a penthouse in Brasov, along with a helicopter, for EUR 3 million.
Not the first…
Romania's market is by no means the only one having to resort to such measures. Poland began to go through a similar residential slowdown mid last year, as buyers preferred to wait for price corrections. Falling prices were recorded in certain residential schemes, according to real estate consultancy firm Knight Frank. In Warsaw a growing number of developers offered a 10/90 payment system, with a 10 percent deposit paid at the signing of the preliminary contract and the outstanding 90 percent upon completion. A growing number of developers started to offer different types of promotions to attract buyers, such as throwing in storage rooms or even an underground parking space within the unit price or waiving the 7 percent VAT.
"The developers' actions to attract more buyers have succeeded to a limited extent. A large number of prospective buyers have decided to withhold their purchasing decisions and expect further price falls," says the Knight Frank analysis.
Last year, the Spanish residential market also started to collapse and sales stalled. Developers offered buyers everything from furnished kitchens and supermarket shopping vouchers to free garages and even exotic trips to Brazil, to attract buyers.
By Corina Saceanu