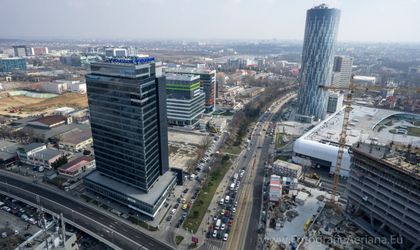 Demand for office space throughout Romania amounted to 140,000 sqm in the first three months of this year, which is almost double compared to the same period last year, according to data from real estate services firm JLL.
Out of this, close to 100,000 sqm were leased in Bucharest, double the level reported in Q1 2015. The largest transaction in the capital was 13,000 qm, this being a lease extension.
Outside Bucharest, approximately 40,000 sqm of office space were leased in Q1, up from about 18,800 sqm in the same period last year, shows JLL data.  Iasi (17,200 sqm), Timisoara (16,300 sqm), Cluj-Napoca and Brasov were the most active regional markets.
"The statistics on office demand in the first three months of this year are encouraging. New demand, meaning pre-leases and new contracts, stood at about 70,000 sqm or about half the market. This comes to show that Romania remains attractive for investors, said Claudia Cetatoiu, senior consultant tenant representation with JLL Romania. The increased activity outside Bucharest helps create an attractive and competitive investment climate and the presence of new tenants from different industries on the local market could attract additional international players in the future, she added.
Demand for office space continued to come mostly from BPO, IT and professional services firms which together generated over 60 percent of the demand for office space in Q1, shows the JLL data. The banking and financial services sector and tenants active in the FMCG industry generated another 10,000 sqm and 3,000 sqm respectively, of the total demand.
Simona Bazavan