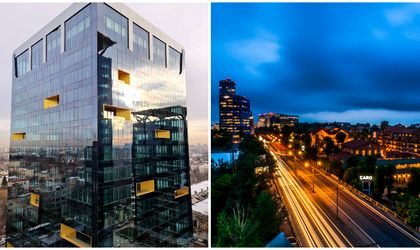 In the last quarter of 2020, Bucharest recorded transactions of office spaces totalling 77,000 square metres, the highest quarterly value of the year, thus bringing the annual transaction volume to approximately 237,000 sqm, according to real estate consulting company Cushman & Wakefield Echinox.
By Aurel Constantin
Compared to the previous year, the transactional office area decreased by 39 percent, while the share of renewal contracts increased from 21 to 45 percent. The most important office project completed in the last quarter of 2020 was One Tower, with a leasable area of 24,000 sqm, part of the One Floreasca City mixed project. Total deliveries of new office spaces in 2020 reached 155,000 sqm, a 46 percent decline from 2019.
The commercial (intended for lease) stock of office buildings in Bucharest amounts to approximately 2.95 million sqm, while another approximately 150,000 sqm are occupied by owners. Projects making up a total area of 350,000 sqm are currently under construction, scheduled for delivery in 2021 and 2022.
In this context, the contractual office space vacancy rate is 12.5 percent, with a significant difference between class A (9.7 percent) and class B (20.7 percent) spaces. Until the end of last year, office use remained relatively low, with less than half of employees going to the office regularly, given that most companies continue to operate in remote or hybrid systems.
"In the current context, we will see a challenging start to the new year for office space owners, who need to adapt their buildings to convince employees that they can return to the office and work in a safe space from the health perspective," said Madalina Cojocaru, Office Agency Partner at Cushman & Wakefield Echinox.
Market value grew in 2020
The Romanian real estate investment market grew in 2020, despite the pandemic, and closed the year with a total value of investment transactions of almost EUR 900 million, which represents almost 8.5 percent of the EUR 10.4 billion investment volume recorded by the six largest countries in Eastern Europe, Colliers writes in its latest "CEE Investment Scene Q1-Q4 2020" report. Romania almost doubled its share in the region's turnover over the previous year and jumped into the big leagues, coming in below Poland and the Czech Republic, but above Hungary, Slovakia, and Bulgaria.
2020 confirmed Romania's potential to punch above its current weight at the regional level. In a difficult pandemic year, when Poland, the Czech Republic, and Hungary all saw year-on-year declines in volumes, Romania, Slovakia, and Bulgaria all experienced positive trends. Overall, volumes in 2020 declined by 24 percent compared to 2019, with the year closing at about EUR 10.4 billion.
"A particularity of the region as a whole – including Romania – is the fact that at least so far, we haven't seen a material shift towards distressed sales, as most are either long-term owners or waiting for things to settle down. This is a bit of a departure from the 2009-2010 recession and could suggest that the subsequent recovery could be much swifter. Romania's more generous yield gap, coupled with depressed yields for other types of assets, bode well for local assets in the coming years," said Laurentiu Lazar, Managing Partner at Colliers Romania. The office sector was dominant all over the region in 2020 in terms of transaction activity, with a share of 41 percent of the total volume of investments, followed by industrial and logistics spaces which are up significantly as investors are diversifying into this seemingly COVID-proof sector (32 percent) and away from the more challenged Retail and Hospitality sectors (12 percent).
Investment in residential projects
In the context of the COVID-19 pandemic and with the amount of time spent at home having increased in the past year, together with the increase of Romanians' purchasing power, the Bucharest residential market is undergoing an effervescent period. Developers operating in Bucharest are investing a total of EUR 1 billion in middle & upper class housing projects, which improve living standards in the capital city, according to a Bucharest Real Estate Club (BREC) analysis titled "The New Face of Bucharest."
According to BREC data, the total investment volume, which includes all sub-segments of the Bucharest real estate market, reaches EUR 3.5 billion, with the residential sector – middle & upper class quality projects – accounting for a total of EUR 1 billion, across 60 projects included in the analysis, either completed in 2020 or due to be delivered until 2023. National Real Estate Cadastre Agency data reflect a residential sales volume that grew by 19 percent in 2020 compared to 2019, despite a two-month freeze during the lockdown period.
According to the analysis, the area attracting the most quality projects is the northern part of Bucharest, with its sub-markets Barbu Vacarescu – Floreasca, Aviatiei, Pipera, Baneasa, Expozitiei, and Sisesti – Straulesti.
Industrial and logistics facilities
The "pandemic year" turned out to be a bumper year for the industrial and logistics segments, with total demand increasing by a staggering 72 percent over 2019, to nearly 784,000 sqm of leasing deals. A large part of this demand came from retailers, including FMCGs, expanding their presence nationwide, as well as various companies, not just pure e-commerce players, looking to branch out in the online sales segment, according to the annual report released by Colliers.
The overall stock of modern industrial and logistics facilities in Romania reached 5.7 million sqm, up by over 0.5 million sqm compared to the previous year, and there is still significant room for growth compared to other CEE countries.
Romania remains one of the more undersupplied markets among the major CEE countries, having roughly half of the warehouse stock on a per capita basis compared to Poland and a quarter of the Czech Republic's. Bucharest accounted for around half of all delivered space and the rest was scattered throughout Romania – mostly in cities from Transylvania, but also in some southern parts of the country.
"Bucharest remains the heart of the local logistics market, but there have been some slight changes from one year to another in the sense that more new warehouses are being developed outside Bucharest – and 2020 was no exception," says Vlad Mustata, Industrial Agency Associate at Colliers. Bucharest continues to lead demand as well, having generated over 70 percent of all leasing deals, with Timisoara and Craiova following at a great distance. FMCGs accounted for one third of total demand, with just Carrefour and Profi's 3 leasing deals, which were among the biggest of the pandemic year, totaling 200,000 sqm. The second and third places – logistics and retailers – were not far apart from each other (over 20 percent market share for each), though in a lot of instances, 3PL tends to serve the retail sector to a significant extent. As such, it would be safe to say that consumer-oriented industries generated at least two thirds of demand in 2020. For comparison, automotive generated one third of the 2019 demand.
Developers are promising over 0.6 million sqm of new developments in 2021, as new supply is needed both to account for the robust demand and to replace a significant stock of older warehouses which are not up to par with current technical and safety requirements. Colliers consultants point out that speculative developments, which were halted during 2020 amid elevated uncertainties, should come back to life and matter much more – possibly as much as 20 percent, double the share seen in 2019.