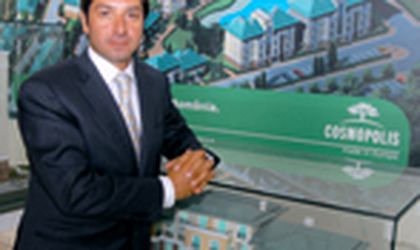 The EUR 700 million project consisting of up to 6,000 housing units, retail space and offices spread over 100,000 sqm of land should be finished by 2014, when the seven phases of the project will be completed. By 2008, the developer will end the first phase of the project, the construction of 565 apartments built on a 65,000-sqm plot, following a EUR 60 million investment. The profit from selling the apartments of the first phase could reach EUR 17 million, and will be used to finance the next phase of the project.
Previously, company officials said there was a possibility of building a medium-sized hotel development in Bucharest, in the future. According to them, the group will open up to other markets in the next few years, such as Moldova and Ukraine. It is seeking a central area-based plot in Bucharest to develop another project and intends to establish an investment fund in the future.
Ahmet Buyukhanli, chairman at Opus Project & Development and the main investor in this project, said there had already been more than 300 reservations for houses, one-third of the demand from individuals and private investors and the remainder from companies and corporate investors.
Cosmopolis is the first project developed by Buyukhanli group outside Turkey. The group develops residential, commercial and hotel projects. "We chose Romania for our first business endeavor outside Turkey because, in my opinion, this country meets the criteria expected by any other foreign investor. With EU accession and being a member of NATO, the Romanian economy provides safety in investments," said Buyukhanli. "We are very reserved in tackling new markets and we take into account all potential risks of a new investment. I can conclude that the Romanian real estate market is less risky than, for example, Bulgaria. With the latest developments in Bucharest in the last few years and our expertise on the Turkish market, we foresee new investments and are considering entering the Romanian tourism market."
With EUR 60 million of funds said to be spent on infrastructure, Cosmopolis residences are being built simultaneously, according to group representatives. "We work mainly with Turkish providers of construction materials. On the Romanian construction market, there are delays in providing the necessary materials and our construction pace doesn't allow any holdup," said Buyukhanli.
The Turkish group was established in 1953, became a family business in 1980, and is specialized in residential spaces, luxury housing and hotel developments.
Magda Purice