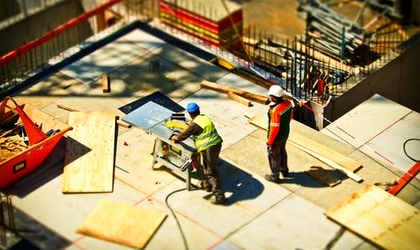 On any given day, construction sites can be quite hectic. Mostly, the personnel's work involves the usage of heavy machinery and equipment that could put their lives at risk. For that matter, the use of safety tags is very crucial in a construction site. Tagging is actually a common form of communication used in these work environments to ensure that all the workers are aware of any possible hazards around them.
Also, tagging is employed for other reasons like inventory checks, communicating equipment status, and inspections. Through proper tagging, everyone in a construction site can know when a piece of equipment is not working or is undergoing maintenance. Without further ado, this piece highlights some reasons why tagging is used in construction sites.
1. Identification or Information
The main purpose for nameplate tagging in a construction site is identification. For example, machinery may be tagged to indicate tolerances or provide the manufacturer's information and guidelines in case of a malfunction. In most cases, equipment tags need to be weather resistant and durable enough to withstand the harshest conditions. In this case, the stamped metal tags from Metal Marker should bring the idea home. These tags can last a minimum of 20 years outdoors without losing the critical information embossed thereon, even in the harshest of conditions or work environments. Apart from constructions sites, they are also commonly used in:
Oil refineries
Manufacturing plants
Shipyards
Military dog tags
Tree tags
And much more
Moreover, tagging comes in handy in identifying tools that always go missing 'mysteriously.'
2. Improved Safety/Warnings
Perhaps the most important part of any construction site is ensuring that everyone stays safe. In fact, it does not only include protecting construction workers but the general public as well. The use of safety tags or warnings goes a long way in helping put potential risks at bay. If a warning sign prevents an accident or injury from happening, that's an incalculable return on investment for any given construction.
3. Asset Tracking 
Tagging is another efficient asset tracking method. You get to monitor expensive machinery and equipment on a construction site easily. You may also use numbering or barcode scanning systems, which makes monitoring the construction site assets a walk in the park. With just a quick scan and the information on a screen, you get all the pertinent details on a piece of equipment or machinery you hold dear.
4. Eliminating Time Cards
Truth be told, almost everyone has ever forgotten to punch in or out for a shift. This can get tiresome not only in tracking down those errant workers to make corrections but also when processing payroll. However, with an efficient employee tagging system, the problem is eliminated. For example, the RFID tags for each employee can be attached to their ID badges or hard hats, so they are scanned as they walk through an entrance portal at the worksite or using a handheld reader.
5. Managing the Building Materials and Supplies
Keeping track of building materials and the related supplies is imperative. Through that, you can ensure proper management of the project by keeping it on schedule and within the established budget. Therefore, with RFID tagging, you can track all the construction materials available onsite as well as the quantities available at the beginning of every day. That way, you can know when to schedule deliveries, whether from off-site storage or your suppliers. Additionally, you're able to track wasted materials and supplies.
Tags can be overly beneficial at construction sites. Whether you want to manage better your assets, equipment usage, staff productivity, or employee safety, you can never go wrong with an efficient tagging system. The above few pointers should be more than convincing about how important tagging is at construction sites.