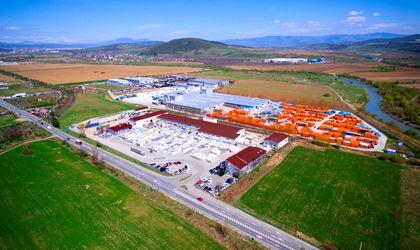 Construction materials manufacturer TeraPlast Group will start implementing 3 investment projects totaling EUR 15 million, of which EUR 6.8 million are coming from State Aid, after the Ministry of Finance approved their financing.
The implementation of the three projects submitted by TeraPlast, Depaco and TeraGlass will begin immediately.  
"I am pleased to see that the state is honoring its commitment to supporting Romanian companies. In 2016 we filed a state aid project for TeraPlast SA and, in the context that it was not approved, we were able to partially implement the project from our own funds. The impact of investment projects will be visible both at a national and international level, and the main beneficiaries will be our customers and partners, to whom we're fulfilling our promise of delivering quality solutions. Another effect of their implementation in this form will be the creation of 159 jobs in the three companies in the TeraPlast Group," said Dora Goia, chairman of the TeraPlast Board of Directors.
The projects
TeraPlast SA's EUR 6.2 million investment aims to bring innovation to the PVC grain market in Romania through the production of halogen-free, fire resistant, granules and expanding the production capacity of polypropylene inner sewer pipes, a superior quality alternative to PVC systems.
The polypropylene waste resulting from the technological process will be recycled and reprocessed.
The EUR 5.2 million of the Depaco project will be used to open a new manufacturing facility in Baicoi (Prahova), which, with a production capacity of over 10 million sqm of tile, will ensure optimal logistics flows and storage.
The TeraGlass project, worth EUR 3.5 million, aims at creating a completely new, fully automated flow for the production of PVC windows and doors, a process that will contribute both to increasing production capacity and labor productivity, as well as to filling demand on an ascending trend.
The scheme by which the three companies in TeraPlast Group applied for State aid is H.G. 807/2014, which aims to stimulate investments with a major impact on the economy and regional development.
State Aid of RON 491 million
There are, in total, nine companies that will receive the State Aid, and the total investment reaches RON 1.3 billion.
Among them are Therme Bucharest, Romaqua – who bottles the mineral water Borsec, MG Tech Industry, Jaeggi Industries and universal Alloy Corporation.