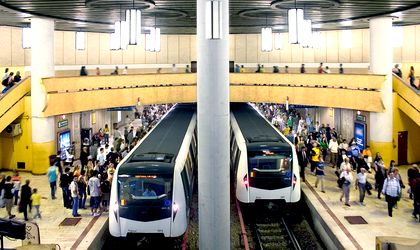 Following the failure of the Romanian authorities to provide relevant explanations, the European Commission has decided that the M6 ​​Subway line (1 Mai – Otopeni Airport) will have a non-refundable European grant for just half of its cost, i.e. only to Tokyo Station (Baneasa Mall area), according to the Pro Infrastructure Association.
The Association announced that it received the letter by which the European Commission in February 2018 criticized and requested explanations from the Romanian side about the M6 ​​Metro Subway following the submission of the financing application (in December 2017) by the Romanian authorities. In the letter, experts in Brussels have six critical issues, including two very serious ones: the lack of a genuine choice of analysis and a low cost estimate.
For example, the EC says the cost estimate is unrealistic at EUR 52.5 million/km, while other recent projects in Bucharest cost EUR 69-83 million/km. In addition, the Commission criticizes the fact that the M6 ​​bus does not take into account the construction of the new T2 terminal at Otopeni Airport in the east (towards the A3 motorway), and the traffic study is not reliable.
Equally important is the disturbance created on DN1 during the execution of stations in the open gallery, and Romanian authorities are too optimistic about the implementation of the project in 4.5 years.
From February until September, there were several rounds of dialogue between the Romanian side and the European specialists. On Tuesday, November 6, the Minister of European Funds Rovana Plumb publicly confirmed that we will only receive money for the May 1 – Tokyo (Mall Baneasa) sector, that is, 6 stations out of a total of 12.
The total estimated value is about RON 6.35 billion (including VAT), of which European funds will only cover 2.36 billion. Roughly RON 416.5 million is the state budget contribution, and nearly RON 1.46 billion will come from the JICA (Government of Japan) loan. On Friday, the request for funding was sent back to Brussels with the new coordinates.
"In their usual style, ministry officials are completely unrealistic, specifying the deadline of December 2023 for the implementation of the investment, the works to be started in 2019. In our opinion, these promises are fanciful, especially if we look at the delays on the M5 Drumul Taberei -Eroilor (started at the end of 2011 and still unfinished)," said the association.