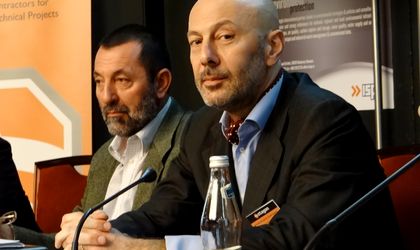 Experts speaking at the Watertight Diaphragm Walls – Buildings with Dry Basements event on the construction industry, organized last week by Octagon Contracting & Consulting, predicted Romania's real estate market to remain flat in 2012.
Alexandros Ignatiadis, owner of Octagon Contracting & Consulting, said that political uncertainty and international economic volatility will most likely lead to stagnation this year.
"This is the first conference of this kind organized by Octagon but we will continue the series of events dedicated to technical topics as we consider them useful for the geotechnical  industry. We have brought together constructors, real estate developers, architects, project manager and designers to debate technical solutions, principles and sealing problems and risks related to the construction of watertight basements," said Ignatiadis.
The event was organized in partnership with the Romanian Society of Geotechnical and Foundations (SRGF), the Romanian Association of Construction Contractors (ARACO) the Association of Structure Engineers (AICPS), and the Institute for Studies and Power Engineering (ISPE).
The company estimates that 25 percent of this year's revenue will come from international projects. Octagon runs operations in Bulgaria, Greece and Turkey and last year it set up an office in the Iraqi capital Baghdad.
"We are currently negotiating several contracts, one of which requires the execution of geotechnical works for an electric plant. We are also negotiating for an infrastructure bid. Both projects are located in Basra, southern Iraq, about 600 km from Baghdad, close to the border with Kuwait and Iran," said Ignatiadis.
Octagon Contracting & Consulting reported EUR 12 million in turnover last year and a EUR 465,000 profit, a result in line with the levels reported last year, said Ignatiadis. For 2012 the company has similar targets. "We intend to grow the turnover of the Comat Electro industrial park to EUR 3 million compared to EUR 2.5 million last year," added the CEO. In 2011 Octagon became the main shareholder of Comat Electro after increasing its stake to 58.5 percent. The industrial park covers 89,000 sqm of land and 20,000 sqm of industrial halls.
The company is currently developing five projects locally, three of which are works on three segments of the Orastie-Sibiu highway. The company is also a subcontractor for Pa&Co International for works on the Bucharest-Brasov 1B highway. The fifth project is a bridge over the River Mures as subcontractor for Tehnodomus.
Octagon Contracting & Consulting carries out special geotechnical works – diaphragm walls, slurry walls, bored piles, micropiles, grouting, anchors and sheet piles – general contracting, concrete structure works, steel works and restoration and consolidation works for historical and state-owned buildings.
The company was set up in 2005 by Ignatiadis and his partner, Paschalis Paganias.
Staff