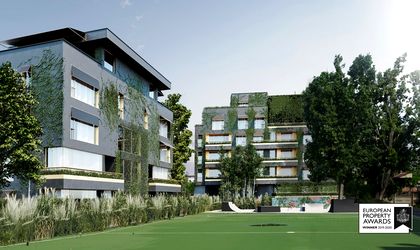 Forty Management started the construction of the mixed-use project Central District Viitorului 134, on a land of 2,200 sqm, located in the center of Bucharest.
"Central District Viitorului 134 is a boutique project, with 40 apartments, divided into 2 buildings, which means a small community of residents united by the same desire to share our values related to high quality of life, attention to detail and design. We want Central Viitorului District to become the first residential project in Romania that intertwines real estate development with unique manifestations of urban art, which will bear the signatures of well-known street art artists. Divided into two buildings, with a general basement, with a height of GF + 5F + 6R and GF + 3 + 4R, respectively, which communicates through a green pedestrian area, like a living portal, Central District Viitorului 134 will also include an office building of 700 sqm and a commercial space, with an area of 250 sqm. The project will be completed in May 2022 and is already over 60% contracted ", says Ana Hogea, sales director of Forty Management.
Central District Viitorului 134 is the winner of the "2020 Residential Development Romania" award given by the International Property Awards, London and is designed by architect Daniel Ciocăzanu and architect Sorina Varenic, from DOOI Studio.
"Following the tradition of national premieres from previous projects – in the Central District Cuza99 we created a green building, with grandiose trees and gardens on the facade, and in the Central District 4 Elements we implemented for the first time in a residential real estate project a running track on the block and a relaxation area with open-air cinema – and in the Central District Viitorului 134 we will offer a national premiere: the first residential project with direct access to a tennis, basketball and football field, at night, exclusively for residents ", adds Ana Hogea.
Forty Management is a real estate development company that develops mixed-use projects under the Central District brand. The company has several completed residential developments (Central District Polona25, Central District Cuza99), another 243 apartments under construction (Central District 4 Elements and Central District Future 134) and 600 apartments in the immediate development plan (Central District Lagoon City and Central District Royal Suites).