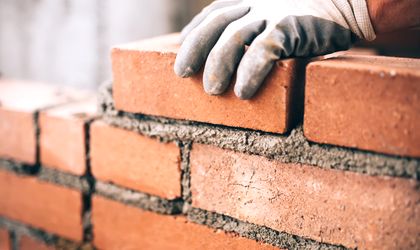 Rising materials prices and labour costs, staff shortages, supply chain issues, and depleted stocks are some of today's biggest challenges for players in the construction industry. In terms of opportunities, we can anticipate an increase in large companies' interest in ESG policies and sales being driven by the fact that housing demand still significantly exceeds the supply.
By Claudiu Vrinceanu
"The current geopolitical and macroeconomic developments are a source of uncertainty impacting all sectors. The construction industry is particularly challenged in terms of sourcing and accessing materials and the remainder of the year will be demanding. At IMMOFINANZ, we are currently engaged in refurbishment works at the myhive Victoria Park office building, and we are preparing to start an extensive refurbishment of landmark property Bucharest Financial Plaza," says Fulga Dinu, Country Manager for Operations at IMMOFINANZ Romania.
There are also present challenges that are eventually going to bring up opportunities for the economy. For instance, the very high energy prices are creating a further incentive to expand climate-neutral solar energy generation as quickly as possible. IMMOFINANZ sees this as an essential contribution to the fight against climate change and a great opportunity and competitive advantage.
The interest of large companies in ESG (environmental, social, governance) policies is an important opportunity for the construction market. IMMOFINANZ expects significant renovation projects for old buildings to reduce the carbon footprint or to add spaces with landscaping interventions. Demand for high-quality building materials and modern HVAC solutions will increase. More projects are also expected to adapt energy supply systems, focusing on using renewable energy.
There are many elements that will influence the construction market in the second half of this year. We can also mention inflation, higher interest rates, the significantly delayed—or even completely absent—construction permits that will result in fewer active building sites, and the rising prices for the available stock of residential units.
"This is a period where the public sector should fully cooperate with developers to make sure the construction market doesn't end up in a recession and isn't forced to cut jobs. The cost of the latter will be immense and might take a long time to recover. Externally, there is the uncertainty caused by the war in Ukraine and its effects. One of these effects is the increase in energy prices, and people are preparing for what comes next. Also, let's not forget about the supply chain bottlenecks which are causing delays and even further price increases," says Speedwell co-founder Jan Demeyere.
Buyers being more careful to compensate for high inflation
The development of the Romanian construction market is intertwined with current regional and global circumstances. The economic contraction will put considerable pressure on everything related to this segment. The industry will also be affected by the rising cost of building materials and energy and the expected interest rate hikes. Buyers will be increasingly cautious as they try to offset high inflation.
"Developers are much more conservative in planning new speculative projects, which means that we will have a limited amount of new supply on the market, and consequently that the average vacancy rate in the real estate sector will decrease. At the same time, we will see higher asking rents for all types of spaces, while some projects may take slightly longer to complete due to the uncertain global logistics and transport situation," said Daniela Gavril, Head of Research at CBRE Romania.
Despite all the troubles of recent months, the construction industry still has reasons to be optimistic about this year's growth potential and opportunities to improve its operations and productivity. Romania's most significant advantage in the region is its availability in the office and industrial segments: we can attract and accommodate new tenants and new requirements without losing business, according to CBRE. "The balanced development of recent years has been helping us remain in a safe zone in these turbulent times. In the coming months, we will see a repositioning of the real estate market as Romanian developers pursue new development areas and different project formats. Mixed-use projects will be increasingly present in both cities and suburban areas. Investment in public infrastructure is expected to accelerate the recovery across the non-residential segment. Technological progress, significant improvements in construction techniques, and the use of superior types of raw materials are some of the factors that will boost the construction industry," Daniela Gavril adds.
Given that the first half of 2022 was marked by a "perfect storm"—supply chain bottlenecks, depleted stocks for certain raw materials, and price increases for construction materials, oil, and electricity, on top of which came the war in Ukraine along with all the problems it has generated—, developers expect prices to rise in the second half as well, and the appetite for loans to remain low amid rising interest rates.
"Moreover, in addition to all these challenges, Bucharest is facing another huge problem caused by the freezing of construction permit issuance by the local authorities. Apartment stocks from existing permits will soon be depleted, which will lead to exponential price increases," says Tinu Sebesanu, the CEO of Impact Developer & Contractor.
Housing demand still considerably higher than the supply
The biggest opportunity on the Romanian residential market is represented by the fact that the housing demand still significantly exceeds the supply. In Romania, the pace of construction is still very slow considering the need for housing, and prices are still much lower than those in similar European cities. "The certainty of prices going up in the future and the growth of the rental market, as a result of the decrease in the number of loan buyers, have made small investors see the residential sector as a very good investment opportunity these days. We've noticed that they are mainly heading towards the medium-high segment, and we are glad that we can meet their needs through our Luxuria Residence project," Tinu Sebesanu added.
At the same time, the entire construction market in Romania faces the problem of workforce shortages. While the lack of unskilled staff can more easily be covered by bringing workers from Asia or Africa, the higher levels of specialisation will soon see acute shortages of well-trained staff.
For example, according to Graphein, the recruitment of surveyors and design specialists, where there's close competition not only with employers in the same industry, but also with players on the IT market, involves strategic and very dynamic headhunting. Additionally, employers are aligning with a general change in thinking that requires flexibility in both working schedules and conditions and in terms of the benefit packages being offered to potential employees. "Candidates also tend to retain some of the benefits that emerged during the pandemic by negotiating a remote or hybrid work schedule, wellness packages or funding for parenting programmes. Another concern is the recovery of debt in the construction sector, which seems to be causing a lot of trouble. A possible economic crisis could generate serious turmoil if a large developer or builder goes into insolvency in the coming period," said Eugen Ursu, the CEO of Graphein.
In terms of opportunities, companies that have been investing in their own sales departments have an advantage. "When you have a competitive sales team, you can more easily generate cash and better profit margins even if demand declines. Meanwhile, companies that have been used to customers coming to them and haven't invested in building sales teams will be affected," said Andrei Spataru, the CEO of IBC Focus.
The relocation of global distribution chains could also bring more investments to Romania, in many areas such as the agricultural-zootechnical, industrial, and logistics sectors. "We of course expect new players to appear on the Romanian construction market, some of whom have so far only tested the ground. Therefore, there's a context for higher investments in certain sectors, which in turn may also attract new players to the market," IBC Focus specialists conclude.
Photo: dreamstime.com