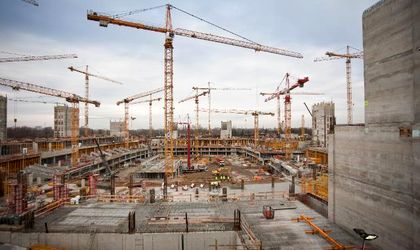 Representatives of the Federation of Employers' of Construction Societies (FPSC) warn that the current construction sector crisis could drag the economy into recession and ask the government for tax subsidies and incentives to raise the salaries of construction workers and halt the exodus of employees abroad.
The FPSC officials demand that the minimum wage in construction be raised to EUR 500/month, with a total taxation of 20 percent, down from about 45 percent today.
"Based on all the data we have, we find that there will be a recession. Construction is down in Romania, even though we have overall economic growth. We need a coherent policy at the government level. The problem of the workers is acute, and half of them are missing. We're asking ourselves, who will build things in the future?" FPSC president Valentin Petrescu said, as the market shrunk by 4.1 percent in the first three quarters.
FPSC Vice President Cristian Erbasu believes that this increase in the minimum wage would reduce the number of contractors who pay their employees of the books.
"The peak of the crisis will come in 2020, when major infrastructure works should start. Building capacity is set by the number of employees. We want to bring young people back to construction. Everyone wants their children to work in IT, in offices, not in construction, where there is a great deal of physical work," Erbasu said.
According to FPSC Vice President Sorin Greu, Romanian constructors have 300,000 workers nationwide, but they need 700,000.
He added that bringing workers from abroad can be a solution, but logistically this is very difficult.