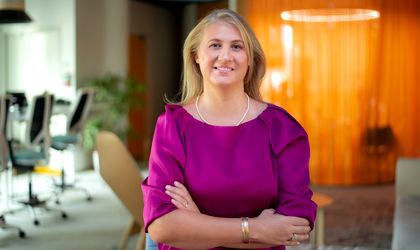 In a volatile context generated by rising building material and utility prices, increasing inflation, as well as the border conflict and the effects of the pandemic, the local real estate market could still see an increase in the listing value of commercial real estate properties such as shopping malls, office buildings and logistics centers in the short to medium term, according to Colliers consultants.
Investor interest in retail products has been growing steadily over the last year, focusing on various product categories, such as retail parks or shopping malls, shopping centers in tertiary secondary cities in need of repositioning, or boxes rented to supermarkets or DIY. Malls are not available in the market for trading, so investors have shifted to similar alternative products. However, Colliers consultants estimate a high interest in any property of this type that would be available on the market.
The elimination of rent discounts as a result of COVID restrictions has an impact of up to 0.5% in the evolution of market values of shopping malls, Colliers consultants show, with the positive trend also being supported by turnover-based rentals. Although INSSE data show an 8% increase in retail sales in the first quarter of this year compared to the same period last year, the increase in revenue from procentual rents in large malls was higher, showing a return even above 2019 figures. Thus, in the short term, we can talk about an increase in the value of commercial properties, but it remains to be analyzed how consumption will influence the end of the year, when the effects of economic compression will be felt more strongly.
"Other major factors that can change the value of mall-type real estate are related to the evolution of lending, interest rates, inflation and utility costs. Consumer credit increased in the first quarter of this year by about 12% compared to the same period last year, which would be almost in line with inflation. The 3-month ROBOR has also risen this year from 3.19% to 5.5% and bank rates are expected to rise further in the near future, which could put additional pressure on the lending and consumption side. But most likely the increase will be gradual, with visible effects at the end of this year or early next year", explains Raluca Buciuc, Director and Partner of Valuation and Advisory Services at Colliers.
In Romania, excluding volatile and controlled prices, such as those for food and energy, the core inflation rate is 6-7%, and this high value suggests long-term effects, Colliers consultants point out, adding that the inflation rate will hardly return to the level of the pre-pandemic period, which will again affect consumption.
"The sustainability of the inflation transfer in rents indexation remains under discussion, especially given that the cost of utilities has also increased significantly. It remains difficult to estimate how much they will impact the level of sales in a shopping center, but these two elements also influence the cost of money over time, the country risk, which could have a negative impact of up to 2-3% in the value of the property", adds Gabriela Bosînceanu – Otea, Associate Director Valuation and Advisory Services at Colliers.
Also, in the next 2-3 years, the owners of commercial, office and industrial buildings will also have additional expenses to align with the requirements of the ESG in Europe, which ensures that the environmental, social and governance criteria are met.
Modern office buildings will be more competitive, with better occupancy rates and stable rents
Rising construction costs will also influence the speed of delivery of new office projects to the market, with many developers preferring to delay construction to see how far the extra cost can be absorbed by higher rents, Colliers consultants note. Thus, the market value of buildings will begin to differentiate even more, fluctuating in fairly generous margins. Specifically, if in the Floreasca-Barbu Vacarescu area the values ​​can exceed 3,000 euros per rentable square meter for buildings no older than 5 years, in the emerging Center-West area, the values ​​are at an average of 2,500 euros per rentable square meter.
"The level of annual deliveries, in the context of rising construction costs and general uncertainty, is expected to fall by half over the next 2-3 years, starting this year, when around 130,000 square meters of office space could be delivered. Thus, the vacancy rate will be absorbed differentially according to the type of building, which will create an increasing gap between newer buildings, located in good areas with superior technical specifications and constant investment in improving building performance, and older ones, located in peripheral areas, in which insufficient investment has been made to compete directly with the first category. Although the slowdown in deliveries can be seen as a stagnation of the market, the timing is good for delivering new buildings or repositioning existing ones, especially in the context of redefining office work schemes," says Anca Bâldea, Director in Colliers' Valuation & Advisory Services department.
A new additional differentiator in the office market is related to the adaptability of buildings to ESG. In the case of older buildings, Colliers consultants point out, the investment required to meet specific standards could be far too high relative to the market value of the building, based on current leases, and hard to cover from potential future rent increases. As a result, first-class buildings will have better occupancy rates and a higher and more stable level of rent. Colliers consultants are already noticing that in some areas there is a shift from a tenants' market to a landlords' market, with gross rents increasing in some cases by 5-7%, despite the fact that there has been an overall 10% decrease in effective rents across the Bucharest market.
The logistics and industrial market could lose its competitiveness compared to regional markets due to high costs for materials and utilities
Romania's stock of modern industrial and logistics spaces, which could soon exceed 6 million square meters, has more than doubled in the last 5 years, but per capita there is still a significant gap between Romania and other Central European markets. As a result, there is potential for further development of such properties, Colliers consultants point out.
The rapid growth witnessed in terms of construction prices and utility costs is putting pressure on rent levels for newly built facilities and may lead to a decrease in competitiveness with bordering countries that will offer higher subsidies or will not participate to the same extent in applying economic sanctions to Russia, such as Serbia and Hungary.
"Still, the outlook for the Romanian industrial and logistics market is very optimistic in terms of the opportunity for Romania to become a regional center for the Balkans (Serbia, Bulgaria, Bosnia & Herzegovina, Macedonia, Montenegro, Albania and even Greece) and e-commerce remains an important driver of future demand for industrial and logistics space, as it requires a larger volume of storage. An opportunity for growth is also the relocation of production facilities from China, due to rising labor and transport costs, and more recently from Russia and Ukraine as a consequence of the war," adds Mihai Pană, Director of Valuation and Advisory Services at Colliers.
In the short term, Colliers consultants believe that changes in values ​​determined by both opportunities and challenges seem to be balanced, but in the medium and long term, it remains to be seen how these challenges will materialize in the economy. In addition, there is an increasing need for commercial building owners to align with European ESG requirements. To begin with, this alignment will involve an additional investment with the aim of reducing the carbon footprint and the use of sustainable energy, which could be recovered in a period of 3-4 years by lowering utility costs and selling the additional energy obtained.
Colliers consultants highlight that it is difficult to estimate the impact on property value, but over time, non-alignment with the new European ESG requirements could influence property marketability as well as the main factors contributing to property market value, such as higher vacancy rates, higher capitalization rates or lower rents.