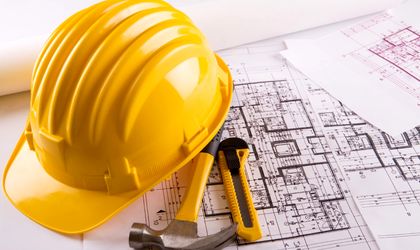 While 2021 brought the first major concerns for the local construction sector, 2022 began with several ominous signs, including price hikes for materials, a pause in approvals for new buildings in Bucharest, as well as a medium-term threat: the potential elimination of fiscal facilities for construction companies. A brief SWOT analysis (Strengths, Weaknesses, Opportunities, Threats) of the Romanian construction sector highlights internal and external risks as well as short and medium-term growth opportunities. 
By Claudiu Vrinceanu 
STRENGTHS 
The biggest strength of Romania's construction industry is related to the positive evolution of the real estate market, which has grown steadily amid conditions generated by the pandemic, the changes in the labor market, and the general economic uncertainty, all of which have led to a re-evaluation of real estate investment strategies. In this context, the outlook in the field remains positive, with the National Strategy and Forecast Commission predicting increases between 6 and 9 percent over the next four years, above GDP dynamics. This development is feasible due to the low cost of financing, the prospect for infrastructure development, and the implementation of programs with the European Union. 
WEAKNESSES 
One weakness of the construction market is that even though it grows every year, Romanian companies in this sector have the lowest survival rate. Fewer than half of local construction companies still operate within four years of opening, according to IBC Focus data, so it is not easy to uphold a profitable business in the field. 
Worker migration and the difficulties associated with recruitment affected construction companies last year. Furthermore, price increases for construction materials led to eroding profitability and delays in execution due to builders' attempts to renegotiate contracts with investors. 
Even as these cost increases are being passed on to investors, demand for construction remains high. Half (48 percent) of the 100 strongest builders in Romania are expecting higher workloads in the next 12 months. Romania's construction sector also has the lowest level of technological innovation in the region. Still, significant progress continues to be expected in the field. 
OPPORTUNITIES 
One source of satisfaction is local administrations' openness to digitalization and smart city projects. 
Local public authorities are open to implementing digitalization solutions, but they lack funds and qualified staff. Meanwhile, big developers say they have the money and that they would support projects that could increase transparency and predictability and reduce response times from authorities. 
In general, the Bucharest construction market will experience a slow pace of development due to the city's urban planning issues. The growth in construction activity will come from new infrastructure projects (highways, railways, etc.), therefore many large general contractors will invest in machinery and infrastructure systems. 
THREATS 
The labor shortage in the construction sector was especially felt in the second half of 2021. Due to the ever-growing pipeline of projects, market players are anticipating a severe crisis in this segment. According to Graphein, while Romania will have a lot of money available for investments in infrastructure and digitalization through the Recovery and Resilience Plan, it will struggle to find enough people to carry out the work. 
Labor shortages have been a major national problem for some time now. Romania lacks workers, engineers, and qualified architects to execute its development plans.