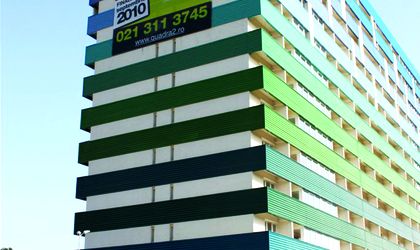 Developer Conarg Real Estate has finished construction works on the EUR 12 million Quadra 2 residential project, located next to the Bucharest Polytechnic University and the Spiru Haret University, the firm has announced. According to general manager Romeo Cazanescu, now the project is delivered the process of selling apartments will be stepped up.Ten percent of the homes available for sale have been pre-leased so far.
With this project the developer targets students in the Politehnica-Regie area of Bucharest and young families in the Militari-Drumul Taberei neighborhood looking for a new home. The project is made up of 226 single-home units of areas between 37 and 51 sqm, and 16 75-sqm apartments.
Conarg Real Estate is part of the Conarg Group, which specializes in property. The group is made up of five companies: Conarg SA – the group's management firm, Conarg Construct and Conarg Consulting – both active in the construction sector, Conarg Real Estate – the real estate developer, and Conarg Trade – specializing in the distribution of construction materials. Conarg Real Estate has so far delivered over 1,500 homes in Quadra Place and Quadra 2.