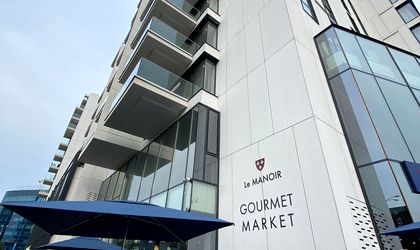 One United Properties, the leading green investor and developer of residential, mixed-use, and office real estate in Romania, announces the opening within One Herăstrău Towers development of a unique concept store, offering access to an exclusive range of selected gourmet products for One community, as well as for the residents in the area. Le Manoir Gourmet Market brings a unique culinary experience to residents and visitors of One Herăstrău Towers, with high-quality products prepared by industry specialists. The project is part of a partnership with Cristian Preotu, owner of Le Manoir, announced in 2021, who invested 1 million euros in this space.
Le Manoir Gourmet Market is part of the company's strategy to offer complete living experiences, with access to unique services that bring an entire community together. The recently inaugurated concept store at One Herăstrău Towers covers an area of ​​400 square meters and incorporates a bakery, a pastry shop, a brasserie, a sushi bar, a butcher shop, as well as a selection of organic vegetables and fruits and carefully selected organic products. The interior design bears the signature of architect Cristian Corvin, who designed the space with attention to detail, creating an elegant and sophisticated environment. In addition, One Herăstrău Towers residents benefit from special offers within this concept store.
"We are delighted to inaugurate this new concept within One Herăstrău Towers, and we are sure that it will bring value to our community and the entire neighbourhood", said Beatrice Dumitrașcu, CEO Residential Division One United Properties. "The opening of Le Manoir Gourmet Market completes the premium living experience offered by One Herăstrău Towers, offering residents access to high-quality products and unique culinary experiences right at home."
"Le Manoir Gourmet Market brings the Parisian atmosphere to Bucharest, with the best gourmet products, ranging from Eclair de Genie bakery and pastry products to fresh fish, oysters, butcher shop, sweets, and wines. The French bar opens in the morning with freshly baked croissants and specialty coffee, then transforms into a small brasserie throughout the day, to become a Wine & Cocktail Bar in the evening. The wide range of gastronomic options is complemented by the Sushi Room, the sushi bar with carefully selected fish products, open daily. With Le Manoir Gourmet Market we aim to capture the essence of gastronomy in an elegant atmosphere with sophisticated design", added Cristian Preotu, owner of Le Manoir.
Improving the life of One community and the entire neighbourhood by offering unique services and products is one of the developer's concerns, as a promoter of ​​urban regeneration in every detail. Le Manoir Gourmet is a pilot project for One United Properties, which can be replicated in other future developments, as part of the company's strategy to offer special benefits to One community.
One Herăstrău Towers offers a modern concept that combines the residential element with the commercial one, with efficient access and panoramic views of Lake Herăstrău and the northern area of Bucharest. The two residential towers include 139 housing units, while the ground floor and first floor of the complex have an area of ​​approximately 5,000 square meters for commercial and office spaces. The building continues the trilogy started by One Herăstrău Park and One Herăstrău Plaza developments and is Green Homes certified by the Romania Green Building Council for superior performance and sustainability standards.
One Herăstrău Towers is a development with many benefits not only for its tenants and residents, but also for the entire community and the environment. The construction involved the demolition of an abandoned building that remained for almost 30 years like a scar on the face of the city, being abandoned after the 1989 Revolution. It is intended to be an upgrade for the entire district of Herăstrău, while the shops and services available on the ground floor and first floor will serve both the residents and those working and living in the area, or who are just in transit.