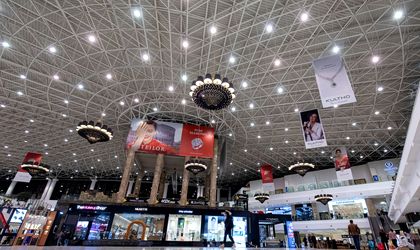 Palas Iași continues to stand out as the regional shopping destination drawing established brands for the first time in Moldova region and beyond. Hugo Boss will be the new exclusive fashion destination, set to bring its premium men's clothing, footwear and accessories products closer to the public in the north-east region of the country. The renowned retailer will open its first store outside of the Capital in Iași, which is also its fourth in Romania.
Palas Iași is the shopping destination of choice in the north-east region for both customers and top brands, and it is undergoing a reconfiguration process that will lead to an updated offer of brands and services. Thus, one of the top players in the premium fashion market,  Hugo Boss, will open its first store outside of the Capital in Iași City, spanning on an area upwards of 200 sqm.
Hugo Boss brand fans will be able to enjoy a complete experience, because in the new location they will find both men's clothing, characterized by high quality standards, exquisite tailoring and durability, as well as footwear and accessories. The pieces cover a variety of styles, from business to casual, offering the right combination of items for a wardrobe in tune with the aspects of modern life.
"Hugo Boss is a highly appreciated brand around the world and the fact that Palas Iași is their first choice for expanding their network outside the Capital is a certification of the project's maturity and regionwide impact. It is also our wish to provide the people of Iași with access to as wide a variety of high-end brands as possible and to constantly offer them new shopping experiences. Once again we are confident that Hugo Boss, the brand whose items stand out owing to their design and the quality of the materials used, will become one of our clients' preferred stores," said Oana Diaconescu, Head of Leasing IULIUS.
Hugo Boss is one of the top players in the premium and luxury segment of the global apparel market and focuses on the development and retail of premium fashion and accessories for men and women. It is headquartered in Metzingen (Germany) and is present in more than 100 countries around the world.
Four other locations are also set to open in Palas Iași this year, marking region premieres.