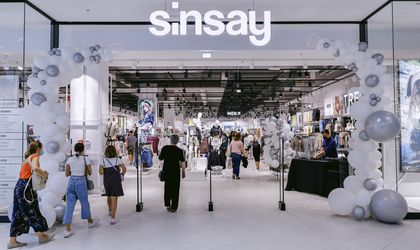 Polish fashion retailer Sinsay will open its first locations in Iași, the two stores spanning on approximately 1,000 sqm each in the Family Market projects developed in Iași by IULIUS Company. Both projects are under development and will open in Q2/2022, the retail concept will integrate essential services for growing communities.
IULIUS Company signed a partnership with international fashion & home retailer Sinsay, who will operate stores in each of the two Family Market projects under construction in Iași as of the second quarter of next year.
Sinsay, part of the LPP Polish fashion group, will operate premises spanning on approximately 1,000 sqm each, the international retailer's offer including clothing and accessories for children, women and men, as well as home and beauty items.
"We are happy to announce the retailers we are bringing into the communities via the Family Market projects. The partnership with Sinsay, part of Poland-based fashion group LPP, is a premiere for Iași, a brand we are confident the local public will embrace. The two projects we are building in Miroslava commune and Bucium neighborhood are formats that have drawn the attention of major retailers that will complement the customized mix of services and products offered by the local entrepreneurs and producers. LPP is also a partner of IULIUS for another brand in the Palas Iași mixed-use complex, and we are glad to support its development process on the Romanian market," said Oana Diaconescu, Head of Leasing IULIUS.
—
"We are delighted to grow our partnership with IULIUS Group via the two new Sinsay locations to open next year. After receiving numerous requests, we are pleased to announce that we are opening the latest Sinsay concept in Iași and will thus be closer to our clients in this area. We believe in convenience shopping and we find that Family Market is a concept where Sinsay can complement the mix of products and services offered to create a destination for residents in the area," said Simona Filip, Leasing Manager LPP.
About Family Market
Family Market is the latest retail concept launched by IULIUS Company, with its first two projects currently under construction in two booming residential areas of Iași (Miroslava commune and Bucium neighborhood). The projects have leasable retail areas of approximately 6,000 sqm each and add up to a total investment upwards of € 17 million.
Both Family Market projects integrate a supermarket and a customized mix of services, predominantly provided by local entrepreneurs and producers, including grocery, pharmacy, bookstore, dry cleaner, mobile service, florist, pet shop, hairdresser, home and fashion products.
The projects will also become poles of social attraction, being fitted with green areas and leisure areas, with mature trees and promenades. The projects will also create parking spaces, new connections and pedestrian access points, via investments in remodeling the infrastructure in the area.
About Sinsay
Sinsay is the latest brand added to the portfolio of Polish group LPP, being launched in 2013. The brand underwent a complex development process and its range of products was supplemented, currently catering to the needs of the entire family.
After the women's collection that successfully launched Sinsay, the brand launched the Fox & Bunny collections for children and babies, the men's collection, the home items and accessories, as well as the beauty products collection.
Many of the products in Sinsay collections have the Eco Aware label. This is a sustainable alternative that Sinsay has adopted to help reduce the consumption of water, energy and resources used in making these products.
Sinsay recently opened 6 new locations, reaching a total of 41 stores in Romania, compared to just 25 at the end of last year. LPP currently has 94 stores in Romania operated by the five brands in its portfolio.
About LPP
Poland-based LPP Group manages five brands – Reserved, Cropp, House, Mohito and Sinsay – and a total network comprising more than 1,700 stores in 25 countries and 24,000-plus employees in Europe, Asia and Africa.
The company was incorporated in 1991 in Gdansk, Poland, and its current name, LPP, is an abbreviation of its founders' names (Lubianiec, Piechocki & Partners). The group is now also present in Germany and Great Britain, on the famous Oxford Street in London, as well as in the world's largest shopping mall, Dubai Mall.
A.M. Filip