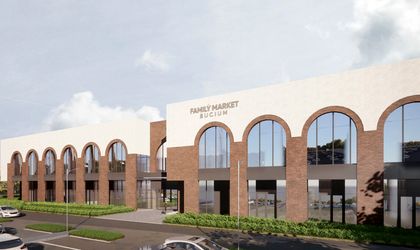 IULIUS Company kick-started the construction works for the first Family Market in Miroslava Commune, Iași County, a 7 million Euro investment in a project catering to the need for vertical urban development. The project is carried out in partnership with Miroslava Town Hall, in the center of the commune that has attracted growing numbers of investments and young families here in recent years.
"We have launched the construction works for the first Family Market: a smaller scale retail format focused on everyday services customized to residents' needs. This is the response of IULIUS Company in support of urban development beyond the strictly administrative city borders, in its satellite-areas. To be more precise, we are taking a part of the city and putting it right in the middle of fast-growing communities, providing services and facilities that are currently not available there and helping people convert the time they would spend driving about into time spent with their families," said Radu Pârlea, Family Market Manager. Focusing on people and their quality of life, the format comprises a retail area created as a platform to support and advertise local entrepreneurs and producers, as well as green spaces and leisure spaces designed as poles of social interaction.
Family Market Miroslava will entail developing a building set to accommodate retail premises at its ground floor. The leasable area will add up to approximately 6,600 sqm, integrating a supermarket and a mix of services and products bespoke to residents' needs, such as these needs have also been directly submitted via the www.family-market.ro online platform, a premiere on the local market. The proposals include the following: butcher's shop, bakery, grocery shop, pastry shop, coffee shop, herbal store, pharmacy, tailor shop and dry cleaner's, hair salon, barber shop, gardening products, pet-shop, home & fashion items, medical services, bank branch, flower shop, and others. An event hall will also be fitted on the upper floor.
The project also includes the only park created in the commune, spanning on a 4,200 sqm area, fitted with more than 110 mature trees and shrubs, lawn, decorative plants, pedestrian alleys, artesian fountain, and a monument of heroes. Furthermore, the project will create 137 parking places, and also entails infrastructure upgrade works, namely widening the adjacent street and redesigning the public transit station in the area.
Construction works are also due to start this spring for the second Family Market in Iași, located in Bucium neighborhood. This one will be integrated in a residential project by another company, which is not a part of IULIUS Group. The project will offer approximately 8,000 sqm leasable area for supermarket and services, and the investment adds up to 9 million Euro. The project will also include 5,000-plus sqm of green spaces, access and promenade alleys, as well as 188 parking places.
The construction works for both projects are due for completion in the last quarter of 2021.