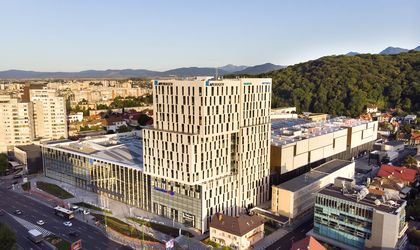 Despite all challenges and difficulties the business environment had to face in 2020, AFI Europe Romania continued the business develpoment, delivering all the projects planned for this year. Thus, 2020 proved to be a succesful year for the company, with notable achievements such as the finalization of the transaction for purchasing the offices of NEPI in Romania, the opening of the most important shopping centre in Romania in 2020, AFI Brasov and the conclusion of the company's 1st phase of its Residential project- AFI City, to mention only a few.
"Although we were in an unprecedented sanitary situation which also generated a tough economic and business environment, I am satisfied with all the accomplishments AFI Europe had during this year. From the greatest office transaction on the investment real-estate market, which positioned us as one of the top office owners in Romania, to new stores opening in our shopping centres, I look back and happy to say that 2020, after all, was a good year from business point of view. Despite all uncertainties, I am optimist and I strongly believe the local real-estate market will start to recover next year step by step." declared Doron Klein, CEO AFI Europe Romania.
In 2020, AFI City Bucurestii Noi, the first residential project of AFI in Romania, delivered the 1st phase  in Q2 2020, fully sold upon completion. The first phase of the project comprises two residential buildings totaling 190 apartments (studio, 2 rooms and 2 types of 3 rooms), green areas, playgrounds and 228 above-ground parking spaces which were handed over to final owners. The project received Green Homes certification as a recognition for an environmentally friendly project and was recently awarded as 'Best Standard Residential Development of 2020'.
A commercial area of approx. 4,500 sqm GLA which is now under development at AFI City, right in front of the subway station Laminorului, will provide the AFI City community, but not only, access to a supermarket, shops, pharmacy and other services.
With a value of 280 million Euro, the takeover of the portfolio consisting of four office projects from NEPI Rockcastle, in August 2020, represents the biggest office transaction in Romania's history. Being realized in the economic context marked by COVID – 19 pandemics proves the trust and commitment AFI has in the Romanian real estate market.
Undoubtedly, the major achievement of this year was the opening of AFI Brasov, a mixed-use project which combines a modern shopping centre and one office building. With a total investment of 150 million Euro, AFI Brasov brings to local citizens of Brasov and to the tourists over 100 top international and local brands, spread on 3 floors over 45,000 sqm GLA, including a 3.500 sqm greent terrace with view to the mountain.
In September, AFI Park Brașov offices opened the gates for the new tenants: Siemens Romania and NTT Data. The A class office building is one of the most modern office destination in town, with 15,000 sqm GLA, modern features and green LEED certification.
In September 2020, AFI Europe Romania managed to renew leases in the AFI Park complex with several tenants, totaling over 20,000 sqm. Following these, Electronic Arts renewed the lease and expanded their offices, reaching approximately 15,000 sqm and VEEAM Software renewed the lease for the space of over 5,000 sqm.
Also this year started the construction of the second phase of AFI Tech Park, a business campus developed in an area close to city center, near J.W.Marriott. This is another visionary project which can revitalize and develop the area. The first phase of the business campus, AFI Tech Park 1, was completed and launched in Q3 2018. The entire AFI Tech Park complex consists of 3 Class A office buildings totaling approximately 70,000 sqm GLA class A office space, where future tenants will enjoy a combination of technological high-ends and a campus design, with 220 parking places and green areas and a modern main lobby atrium.
In October and November, AFI Cotroceni, the largest shopping center in the country with 88,500 sqm GLA, announced the opening of new shops, as part of the strategy for developing the portfolio of tenants operating in the mass market segment of the market. Flanco, Nike, Styland, Colin's, my Geisha, PUPA Milano, CUPIO, I'MOD Flowers, Leonidas and Sokolov are the brands that complete the tenant mix in AFI Cotroceni. Also, Marc O'Polo opened recently the biggest mono brand shop in Romania, choosing AFI Cotroceni as the perfect location for this special inauguration.
2020 brought positive changes for AFI Ploiesti as well, with some important relocations of existing tenants, new store openings or extensions of famous Romanian and international brands. Sinsay and Cropp, the well-known Polish brands part of LPP group can now be found exclusively in Ploiesti in our shopping center, enjoying a tripled surface of their shops. Sinsay exclusively brought three new products categories: fashion for kids, men and home accessories on an area of 1,200 sqm.
Relocated on a 600 sqm area the new eMAG showroom opened in December is the only eMAG showroom in Prahova County, being a hot spot for the citizens of the county. Also, Deichmann, Carturesti and Maxbet will bring spectacular relocations in AFI Ploiesti in the last month of the year.
MY GEISHA, PUPA and CUPIO opened their shops in AFI Ploiesti in the last months of 2020, being the only ones in town. Visitors who are looking for Romanian brands top quality products at affordable prices are expected in AFI Ploiesti.
The CSR project "Life Plan" ("Plan de viata", www.plandeviata.ro), which started last year was officially launched in 2021. This project offers 10 young institutionalized children who are forced to leave the institution at 18 years old a chance to a new life. By offering them access to a home, job, psychological counseling, trainings and support, AFI Europe together with NGO "The Social Incubator" and McCann PR try to shape a better world and to make a truly powerful social improvement in our society.
AFI Europe is a subsidiary of AFI Properties and one of the leading companies in real estate development, management and investment on Central and Eastern Europe markets. The company is present in countries such as Romania, the Czech Republic, Poland, Germany, Bulgaria, Serbia, Hungary and Latvia since 1997.