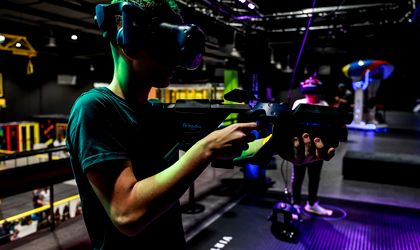 Colosseum Mall continues the process of developing its tenant mix and announces the signing of a lease agreement with Hype by Kiddo for the opening of an important entertainment center, thus strengthening the range of services and products offered to residents of sector 1 Bucharest as well as those from neighbouring localities.
Hype Colosseum entertainment center will have an area of approximately 2,500 square meters and will include multiple attractions for families with children, as well as for teenagers and adults. Moreover, Hype Colosseum will also target the events segment, for organizing birthdays, product launches, company team-building activities, educational and recreational activities for school groups.
Hype Colosseum will include areas for a trampoline park, climbing, obstacle course, suspended adventure route, arcade games, slide maze, restaurant and bar, a dedicated party area, and a space for immersive and virtual reality experiences.
The climbing area will bring different panels than those in other locations. Among the most anticipated novelties are a giant octopus tentacle and a dark chimney. In addition to a new type of Ninja Warrior, there will also be a new attraction consisting of a multi-level maze with many high-level slides. The suspended urban jungle route will be built on two floors, with 3.5 and 6.5-meters high obstacles to enhance the challenging experience.
Moreover, the trampoline park, will include areas for basketball, free fall, and many other exciting components to complete the "menu" of entertainment. In terms of virtual reality, Hype Colosseum will introduce a new concept of space dedicated to immersive experiences with multi-player arenas and dozens of individual simulators.
The tenant investment in Hype Colosseum amounts to approximately 1.5 million euros, to offer high-quality entertainment experiences, technologies, and latest-generation attractions, ensuring active, innovative, and captivating entertainment.
Mihai Dinu, General Manager of Colosseum Mall:
"Colosseum Mall is in a continuous process of development, and we constantly pay attention to retail market trends. This year started positively with the lease of the last available commercial spaces in Colosseum Mall. This area of ​​Bucharest has become a magnet for residential project developers in recent years, and thus, due to population growth, the need to diversify the products and services offered by the shopping center is a natural one. Hype Colosseum will undoubtedly become an attraction for both Bucharest residents and visitors from outside the capital."
Cristina Șucu, Co-Founder Hype by Kiddo adds:
"The opening of the new Hype location in Colosseum Mall represents an important step forward in our expansion strategy and consolidates our position in the entertainment market, as well as the expansion of our portfolio. We aim to offer an unequalled experience in terms of fun and education for children and parents. By 2025, our group will grow with at least 5 more locations in Romania and at least 2 outside the country."
Hype Colosseum complements the services and brands hosted by Colosseum Mall. Last year, Colosseum Mall launched new commercial spaces including dozens of fashion and accessory stores, restaurants, leisure spaces, and children's playground areas, reaching a total area of 54,500 sq m, becoming one of the largest shopping centers in Bucharest.
For more details about Colosseum Mall, you can access  www.thecolosseum.ro website or Facebook and Linkedin pages.