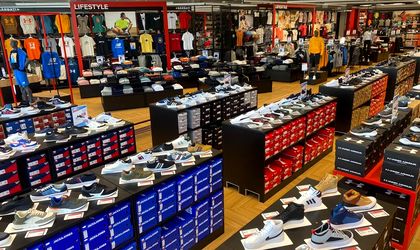 Hervis Sports & Fashion, the Austrian sporting goods retailer in Romania, reopened on Thursday, April 14th, at 10:00, the first store in Bucharest renovated according to the latest standards of the concern of which it is part.
The store is located in the Militari Shopping Shopping Center, Bd. Iuliu Maniu 560A Bucharest, has an area of ​​approximately 1400 square meters and it is the most modern Hervis store in Bucharest. With the renovation of this store, Hervis begins an extensive process of modernizing all stores, to bring them to the latest standard of performance, while opening new stores.
"We want to continue to offer customers a memorable shopping experience, providing them with a complete package, which includes tips, products, services and information, so that they can make the right decisions for themselves. Hervis's expansion plans continued in the pandemic, we did not slow down our investments and, most importantly, we continue to invest in existing stores and open new stores, consolidating our market position. Through the projects we have started, we aim to be close to all those who want to live healthier and exercise, offering both the necessary equipment and useful advice for practicing various sports." Stated Cătălin Pozdarie, General Manager of Hervis Sports Romania, on the occasion.
The Hervis store located in the Militari Shopping Center was renovated according to the new structure of the concern, which requires the grouping of products by sports categories. It offers a wide range of sporting goods for children and adults. Thus, sports enthusiasts will find over 40,000 equipment, shoes and textiles for practicing a wide range of sports. With the occasion of reopening the new store, Hervis is waiting for its buyers with plenty of very attractive offers.