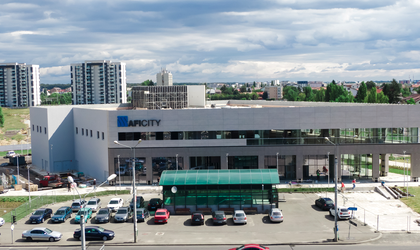 Announced in late 2021, the opening of AFI CITY BNOI commercial center draws near, planned for the second quarter of 2022. Developed right near the residential project AFI City Bucurestii Noi, the commercial center will offer multiple retail facilities to the residents of AFI City but also to the people in the surrounding neighborhoods.
The commercial center will reach a total area of 4,500 sqm GLA of retail spaces, efficiently spread on GF +1. Located right in front of the subway station "Laminorului", AFI CITY BNOI commercial center will provide AFI City residential community and its visitors access to supermarket, fitness club, pharmacy, coffee shops, restaurants and services area. Its excellent position makes the access very convenient from and to other facilities in the area: Bazilescu Park, Mogosoaia Park, Straulesti and Grivita Lakes, Masca Theater, Otopeni Airport.  
The residents of AFI City Bucurestii Noi district and not only will be able to grocery shop at Mega Image supermarket that will have a total area of 1,200 sqm GLA.  
The project will also host the first Clever Fit fitness club in our country, on a total area of 1,400 sqm GLA. Clever Fit is a franchise originally from Germany and the 2nd largest fitness network in Europe with 500 clubs and ~ 1 Mil members.  Next year 3 units will be opened in Bucharest and one in Timisoara, announced the representatives of the company.  
"AFI City Bucurestii Noi was the first residential project developed by AFI Europe Romania in our country, based on the international experience and the know-how from other countries where we develop large scale residential units.  

The retail component now under construction and planned to be delivered in Q2 2022 will bring added value to AFI City residents and to the entire neighborhood, shaping a "city within the city", where all the needed facilities are just around the block: green spaces, parking, playgrounds, gym, supermarket, restaurants and coffee shops and other services. We are glad that our partners trusted the potential of this project despite the pandemic crise and we want to thank them with this opportunity. This retail project will be delivered in Q2 2022.", stated Roxana Stanciulescu (Head of Retail Leasing – AFI Europe Romania).  
First phase of the residential project AFI CITY Bucurestii Noi was delivered in Q2 2020 to its final users, comprising 190 apartments with high quality finishing, exterior gardens and GREEN Homes Certificate for being an environmentally friendly construction.