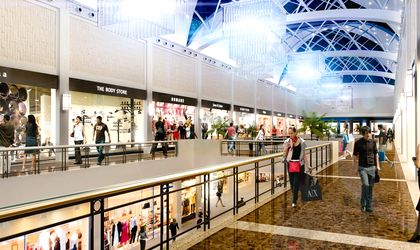 The first phase of Colosseum, the retail development of Nova Imobiliare, will open this autumn. The retail park, whose construction is being financed by the Bank of Cyprus, will host tenants such as the first Leroy Merlin store in Romania, electronics retailer Altex and a Carrefour hypermarket.
Staff
The EUR 350 million Colosseum development constitutes a total of 190,000 sqm covered shopping mall and a stand alone retail park, with more than 480 shops and over 10,000 parking spaces, constructed on a site of over 600,000 sqm in the Chitila area, northwest Bucharest. The investment is predicted to provide over 5,000 jobs.
The second phase of the project consists of a shopping mall containing 480 stores within a leased area of 137,000 sqm. The mall will feature a marble food court, a 12-screen cinema, 20-lane bowling alley, restaurants and three shopping boulevards: Via Milano, hosting the most popular brands, Corso Capri, targeting fashion conscious teenagers and young people, and Bellini Boulevard, a luxury avenue dedicated to exclusive names. Its opening is scheduled for 2013. Of over 10,000 parking spaces, 8,000 will be covered.
Two more lanes and two underpasses will be added to the main road
(Sos. Chitilei) passing in front of the facility.
The Colosseum is being developed by Nova Imobiliare, a Romanian company established by British businessmen. Panico Panayi, president of the firm, described the positioning of the project as premium, in the context of a return of customers' preference for luxury retail. "The economic crisis is fading away and luxury retail is coming back. The difference this time is that you can't just slap a logo on something and expect it to sell. If a brand and its services or products are well considered, well crafted, designed to last, have a story to tell and are presented in a stunning physical space then consumers will connect," he said
Shoppers are becoming more mature – and ethical, added the president. "Customers are starting to demand that retailers not only offer value but also advocate values like environmental and social responsibility. It's all part of a more sophisticated understanding of what 'value' really means. Recent studies show that consumers are becoming less sensitive to price, and looking for more quality and for retail that's a little less selfish.  The Colosseum will be a lot more than just another mall offering expensive goods: it will provide jobs, it will increase the desirability of the Chitila area, thus providing its residents with a new perspective on what urban comfort means," Panayi predicted.
The architecture firm for the project is Leach Rhodes Walker, which has offices in Manchester and Bucharest, while the interior design architects are the American-based Darrell Schmitt Design Associates, specializing in luxury resort and hotel design around the world. The project and cost manager is Gardiner & Theobald.
Other retail projects expected to be delivered this year include the Maritimo Shopping Center in Constanta, Palas in Iasi, and Baneasa Shopping City's extension in Bucharest. The first retail delivery of the year was the Promenada Mall extension in Braila, with a 7,000 sqm GLA.