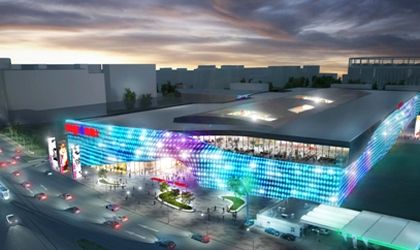 Colliers International & DTZ Echinox have been appointed co-exclusive leasing agents for the commercial projects of Real4You in Romania, developed in Bucharest, Targu Mures, Satu Mare and Focsani.
Real4You Group will develop several shopping centers in Bucharest and throughout Romania, in cities such as Satu Mare, Foscani and Targu Mures, branded as Mega Mall (pictured). A 70,000 sqm will be developed on the site of the former Electroaparataj plant, in Pantelimon neighborhood. The countryside shopping centers will have between 18,000 sqm and 22,000 sqm each and will be anchored by a hypermarket or a supermarket.
The Mega Mall project in Bucharest will be located at the junction of Iancului and Pantelimon roads, on the former industrial platform Electroaparataj and will benefit from a catchment area of over 1.2 million inhabitants. The retail scheme is the first to address the shopping needs of people living in the Eastern side of Bucharest, with a large number of fashion brands, a hypermarket and a noteworthy entertainment component.
Real 4 You Group is an investment company in the real estate sector that was established in 1995 by Christian Rimpf and Klaus Riederer. The planning and realization of retail real estate properties is Real 4 You's core area of activity. Real estate projects arose primarily in Hungary, the Czech Republic, and Slovakia. In a second step, successfully initiating activities in the markets of Romania and Bulgaria a few years ago. The company has been extremely active through the crisis, launching several new projects. In Romania, Real 4 You Group has built 21 MiniMax stores and 3 retail parks.