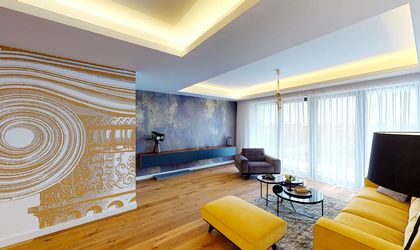 The developer City Garden Residence, with over 10 years of experience in the Romanian real estate market, has completed the first of two phases of Bonton Luxury Villas, an exclusive project consisting of 66 luxury villas, located in the proximity of Băneasa Forest and 200 meters from the American School. 
The first phase of the project includes 36 villas with optional interior elevator and a private club with swimming pool and fitness room. Around 77% of the villas are already contracted, confirming the growing demand in the market segment of premium and luxury houses.
The Bonton Luxury Villas project villas are some of the largest housing units on the market, designed to accommodate both family members and auxiliary staff such as a live-in nanny. With a modern design, the 2-storey villas offer usable areas from 293 to 327 sqm, cleverly compartmentalised. They have up to 7 spacious rooms (including living and dining area), premium finishes, 2 or 3 terraces, and ground floor gardens of up to 200 sqm.
In addition to their generous size, the houses also incorporate increasingly sought-after additional facilities. For example, 56% of buyers have opted for a home office configuration, given that remote working is more common than ever, boosted lately by rising fuel prices. Also, about 40% of customers chose to equip their home with an interior elevator, a new element introduced by developer City Garden on the Romanian residential market.
"Bonton Luxury Villas is more than just a luxury residential development. It is a truly unique project, designed to transform the routine of urban living and offer the resident community a unique living experience. All the facilities for an active and healthy lifestyle are within walking distance, from the gym, swimming pool, to the 900ha of Băneasa Forest, which offers many options for recreation in nature. At the same time, the location of the complex ensures quick access to points of interest in the north of the capital, from top international schools, office areas, to parks, restaurants or the airport. Because of these advantages, the project is desired both by clients who want to own their own home and by those interested in an investment opportunity. We estimate that by the end of the year we will reach a contracting rate of over 90% of the first phase", says Andrei Cantaragiu, CEO of developer City Garden. 
In terms of the profile of buyers, most are entrepreneurs or employees in middle & top management positions, aged over 35, with about a third of them being expats. Around 60% of the clients have purchased a house as a family home, while 40% are investors, attracted by the profitable investment return (8% per year) they can benefit from by renting a villa.
The Bonton Luxury Villas project is currently in its second phase of development with 30 villas, with an expected delivery date in the second half of 2023. The total investment in the project is more than €19 million.